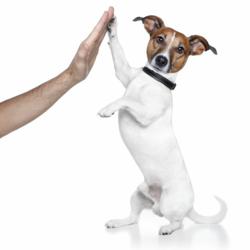 Just post a picture of you high-fiving (your friends, your mom, your dog – whatever), and we'll announce our favorite on Thursday
Chicago, IL (PRWEB) April 18, 2013
Moo & Oink is hosting a contest today titled "How Do You High-Five?" on its Facebook page in honor of National High-Five Day, Thursday, April 18. The contest promotes Moo & Oink's popular High-Five BBQ Sauce.
Participants are asked to take a photo of themselves showcasing how they high-five and post the photo to the official Moo & Oink Facebook page. Photo submissions will be accepted for consideration from on Thursday, April 18.
"Just post a picture of you high-fiving (your friends, your mom, your dog – whatever), and we'll announce our favorite on Thursday," state the official Facebook instructions.
The winning high-fiver will receive a case of Moo & Oink's sought-after High-Five BBQ Sauce and a limited edition Moo & Oink T-shirt.
While nobody knows who invented the high five, rumor has it that a man named Lamont Sleets popularized the gesture. Sleets grew up in Kentucky where his father's old army friends greeted each other by extending their arms straight up in the air and saying the name of their division: "Five." Sleets had trouble remembering the names of all his father's friends, so instead he would just say "Hi, Five!" This childhood greeting soon became the way he greeted everyone. NBA player Derek Smith also claimed he created the high five while playing basketball for the University of Louisville in 1979.
To participate, visit the Moo & Oink Facebook page: http://www.facebook.com/MooAndOink.
About Moo & Oink
Moo & Oink provides an array of Chicago-style BBQ meats and grilling essentials including meaty rib tips, chitterlings, hot and mild links, sausages, breakfast links and patties, breaded chicken tenderloins and nuggets, and the best darn BBQ sauce known to man. Moo & Oink has a strong commitment to making great tasting and affordable food to mark any occasion. From a BBQ in the park or the backyard grill to a Sunday family dinner, Moo & Oink is real people food.
The legendary brand is owned and operated solely in Chicago and has been a staple in the Chicago community for more than 50 years. Products are now available in 300 stores in four states – Illinois, Indiana, Wisconsin and Michigan. In addition, Moo & Oink products can be shipped anywhere in the continental United States.
For more information, call 773-523-8161 or visit: http://www.moo-oink.com. To order online visit: http://www.tastechicagosbest.com.