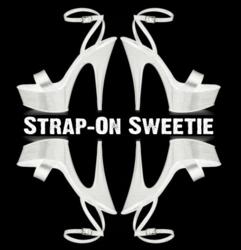 We are the essence of a modern rock band
(PRWEB) August 04, 2009
In 2005, Clifford Notes and Carella Ross affectionately named their long distance music project Strap-On Sweetie after a Las Vegas prostitute solicited Mr. Ross in front of the Luxor Casino offering to be his "strap-on sweetie". Living in Chicago at the time, Mr. Notes would routinely share music files with Mr. Ross over the internet communicating through late night telephone calls. "We are the essence of a modern rock band," states Mr. Notes. "All of our musical and artistic collaboration has taken place through some form of modern communications."
Upon completing their early recordings the group was courted by labels and ecommerce moguls alike. "All of these (business) people represented everything that we hated about the music industry," Continues Mr. Ross. "I'd rather be piss-poor than to subscribe to their creative ideas." So without a monetary game plan for the music, Mr. Notes turned to fashion as the answer. Working with his New York cousin, he began to design a clothing accessories line to be launched under the moniker Strap-On Sweetie. "I though everything was moving along and then…" Mr. Notes waited months for a response from his cousin to no avail. A year later she emerged with a clothing accessory line under her own name. "Some things are a blessing in disguise," States Mr. Notes. "In this case, the extra time allowed concepts to truly blossom."
So how did Strap-On Sweetie make the transition into retail apparel sales almost four years later? "One night at Studio 11, I came to in excruciating pain on the control room floor bleeding from my arms and back," States Mr. Notes. "The only person there was my bandmate Kitty Kat from The Bored Of Education. On her account, I set down a pair of magnetic therapy balls, and next thing I was on the floor. My girlfriend's response was that the wound looked like a high heel mark. When I relayed this to Kat she countered that it must have been witchcraft." The outcome of this incident left Mr. Notes bedridden for over a month where he strategically planned the future of Strap-On Sweetie. "I came to the conclusion that people like Carella and I are truly the A&R types of the future. We have great affinity for edgy music and fashion, and rather than solely propogate our own media, we should be representing the music and fashion of others. I kept laughing about the high heels, witchcraft, and magnetic balls. This gave me the idea to launch the project as a retail store with an enormous selection of unique and hard to find high heels and clothing accessories."
After the stores launch, promotions became of essence. Since the launch of straponsweetie.com, the company has sponsored numerous fashion shows at Chicago clubs including Enclave, Victor Hotel, and The Joynt. The events have featured runway shows with the latest Strap-On Sweetie fashions, along with new music by Chicago groups such as Saber and The Streets On Fire. "It's such a wonderful feeling to bring something truly new and unique to a public forum," Says Mr. Notes. "We're putting classy back into sexy."
Strap-On Sweetie now provides an online shopping environment where customers can purchase the latest in cutting edge fashions, and enjoy complimentary gifts with each order; such as high quality CD musical releases and compilations, as well as other novelty items - including magnetic balls. Additionally, the site boasts an article section where users can submit their poetry and writings for publish upon approval. "It's our duty to embrace the art of our community," States Mr. Notes. "By relying on fashion as our breadwinner, we are solving the problem of monetizing new music promotion. We are also providing the same user trust in music selection that a record label provides." Mr. Notes also tells us to look for Strap-On Sweetie retail locations in early 2010. "We are inundated for requests to provide a forum for customers to see and touch these new fashions. We're left with little choice but to bring Strap-On Sweetie to brick and mortar." Visit Strap-On Sweetie on the web at straponsweetie.com.
The next Strap-On Sweetie event will be held in collaboration with Foxxcode Magazine at The Joynt Chicago August 7, 2009, 10:00 PM until 2:00 AM. All patrons must be 21 and over with valid identification. Visit Strap-On Sweetie Events for more details.
###