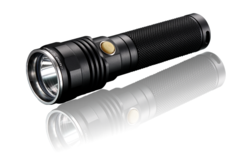 Designed with the harshest environments in mind
Mechanicsburg, PA (PRWEB) May 09, 2013
The K10 and K11 high lumen flashlights are brighter than bright with output matching its specifications. With a maximum light time of 40 hours, both high-quality flashlights offer very high lumen output brightness available by Impeltronics.
Designed with the harshest environments in mind, the K10 and K11 high lumen flashlights are also known to endure extreme temperatures and extreme weather. The rugged, aircraft aluminum body also keeps battery power under control and safe.
With a super-bright LED projection and high performance energy conservation, the high lumen flashlights emit a balanced beam profile. A tough, but ultra clear glass lens also helps keep the light luminous. Featuring integrated construction, with a side mode switch button and excellent heat dispersion, the flashlights are additionally equipped with multiple output levels including strobe.
A low-voltage indicator appears and the device reveals when the battery is decreasing and changes to low mode until the battery eventually runs out. Compact and lightweight, the device can be used for many different trips and occupations.
Flashlights from Impeltronics can be used for many different applications, including search and rescue, police usage, hunting, sports and recreational and much more. Lightweight, at about 4.2 ounces, excluding the battery, the K10 and K11 High Lumen Flashlight series includes an Operator's manual, Two Spare O-rings and a 550 paracode lanyard with other optional accessories available. Use of the included lanyard prevents accidental drops and can keep the flashlight handy for quick action use. The operator's guide included with the purchase will allow the user immediate explanation for using this product by Impeltronics.
For more information visit:
http://www.impeltronics.com
Media Contact
Michael Pastal
717-440-1680
mpastal(at)impeltronics(dot)com