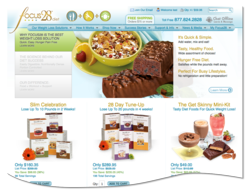 Anybody in the office can exercise like this!
Tarrytown, NY (PRWEB) November 23, 2011
Focus28 has recently introduced the Iso-Pro system! This system combines Isometric, non-strenuous, exercise with a high-protein diet and provides individual support to give you motivation to stick to the program and obtain maximum results.
Studies have shown that eating a diet that is higher in protein gives your body the extra boost of amino acids it needs to burn excess fat, and give you the energy you need to exercise and build muscle without putting added stress on your body.
Focus28 provides their customers with high-protein meals that are not only good for you but good tasting as well. Breakfast is generally the hardest meal of the day to plan while on a diet, but Focus28 provides delicious pancakes, oatmeal and omelets that are low in calories and high in protein.
The isometric exercise program is designed to keep you in control of the amount of resistance you put on your body to decrease pain, soreness and over-exertion. Creator and Focus28 Master Weight Loss Advisor Lisa A. recently demonstrated how the Iso-Towel, a product of their Iso-Pro system, is effective on the Fox News Network. After using the product Fox in-house medical representative Dr. Manny Alvarez exclaimed "Anybody in the office can exercise like this!"
In addition to the meals and exercise program, clients are provided with an individual consultant to help give you the motivation and support one may need to stay committed and to keep track of your progress. A satisfied client of Focus28 recently posted "Not only did I achieve the results I desired, but was blown away at the support and understanding their so-called weight loss experts gave me. Debra, who was so compassionate, yet strong in her conviction to bring me to success, was instrumental in my ability to stick with the program and change my life forever".
Research and case studies have proved that most people feel a difference in as little as one week with full results after four weeks. This system works for men and women, both reporting improvements in their specific trouble areas such as the abdominal region.
For additional information regarding the science behind the Iso-Pro weight loss system and products please go to http://www.focus28diet.com
###