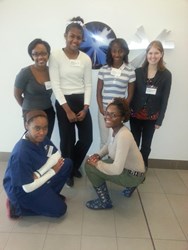 Cleveland, OH (PRWEB) December 05, 2013
Since its kickoff in October, NEONI's 2013 - 2014 Healthcare Career Shadowing Program has assigned 168 students from 32 high schools to shadowing experiences in nine different hospitals. The high school shadowing program, open to juniors and seniors, provides students with the opportunity to spend a day interacting with professional healthcare practitioners in nursing, radiology, and a variety of other healthcare occupations at several Northeast Ohio hospitals. Since the program began in 2006, more than 5,000 students, from over 150 high schools have shadowed healthcare professionals in more than 30 local hospitals.
"This high school shadowing program offers students a sneak peek into future healthcare career options," said Susan Zagula, NEONI's director of placement services. "This is an excellent opportunity for students interested in the industry to gain valuable experience and knowledge."
Phase two of the high school shadowing program opens Dec. 2. During this time, NEONI will be accepting shadow requests from students interested in participating in Feb., March, April and May 2014.
For additional information, check out NEONI's Healthcare Career Shadowing Program. If you have any questions, please contact Susan Zagula via email or at 216.255.3664.
###
Since 2000, NEONI has worked to empower, strengthen and grow the Northeast Ohio healthcare workforce. Membership includes more than 200 professional nursing leaders, representing 74 organizations in 12 Northeast Ohio counties. For more visit http://www.NEONI.org.