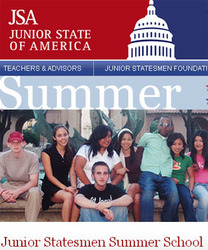 We are very thankful that the Tiger Woods Foundation has extended its support to the Junior Statesmen Freshmen Scholars program at Tiger Wood's alma mater, Stanford University
San Mateo, CA (PRWEB) March 11, 2009
Eighth grade students from across the country are encouraged to apply for scholarships to attend a college-like summer school program this year. Thanks to a $5,000 grant from the Tiger Woods Foundation of Irvine, CA., those awarded will be able to attend Freshman Scholars, part of an annual tradition designed to inspire and educate tomorrows leaders: the Junior Statesmen Summer School.
The $1,000 scholarship winners will gather with other academically talented students at Stanford University in the heart of Silicon Valley from June 28 to July 19. This high school gifted summer program fosters a close-knit, supportive and intellectual experience, as students explore political leadership.
"We are very thankful that the Tiger Woods Foundation has extended its support to the Junior Statesmen Freshmen Scholars program at Tiger Wood's alma mater, Stanford University," says David Viotti, CEO of the Junior Statesmen Foundation. "These scholarships for eighth-grade leaders are a great example of Tiger Woods Foundation's continued commitment to helping children and teens achieve their goals."
The Junior Statesmen Summer School offers a challenging, dynamic academic experience for students who have a passion for politics and government. In addition to Freshman Scholars, the organization will host summer programs for high school students entering grades 10 through 12 at Georgetown, Princeton, Yale and Stanford.
The Junior Statesmen Foundation administers other scholarship funds as well, including those provided by The Alice Tweed Tuohy Foundation, the Meese Family Memorial Fund, the Gerald Garner Memorial Fund, the Robert Meyers Scholarship Fund, and donors to the West Contra Costa Initiative.
Interested applicants can visit the Junior Statesmen Foundation website for details about this high school gifted summer program designed for incoming freshmen and other Junior Statesmen Summer School programs.
About the Junior Statesmen Foundation:
Since 1934, the Junior Statesmen Foundation (JSF) and the Junior State of America (JSA), a 501(c)(3) non-profit organization, has helped over 500,000 student leaders gain the knowledge and skills necessary to be active, informed and responsible citizens, voters and statesmen. JSA is celebrating its 75th Anniversary in 2009. The Junior Statesmen Foundation is a non-partisan, educational organization, providing administrative and educational support for the student-run Junior State of America. The Foundation also runs the annual Junior Statesmen Summer School and Summer Symposia in Ohio, California, Arizona, Washington, New Jersey and Texas. The Junior Statesmen Foundation board of directors includes leaders in business, government, law, and education. Offices are located in San Mateo, Calif. and Washington, D.C.
About the Tiger Woods Foundation:
In 1996, Tiger Woods and his father Earl brought their family motto of "caring and sharing" to life with the inception of the Tiger Woods Foundation. Through the Foundation's work, Tiger has passed on his family's values of integrity, honesty, discipline and fun to youth around the world. "I can proudly say more than 10 million young people have been touched by the Tiger Woods Foundation," says Tiger Woods, Founder. "Through character development programs, scholarships, grants, junior golf teams, and the Tiger Woods Learning Center, the Foundation is helping young people reach their goals."
###