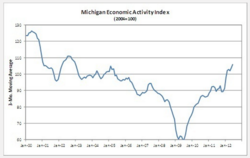 We have realised capital gains of north of 50% on most investments in 2011 and expect the same for 2012 and 2013. We have guaranteed a minimum yield of 15% to our clients because we are generally targeting 21-26%
Livonia,MI & Brisbane,QLD (PRWEB) September 04, 2012
This week Comerica Bank reported Michigan's economic activity to be at a ten year high.Their index measured 105.9 for the end of the 2nd quarter of 2012 which is 77% higher than the low in 2009. By anybody's measurements a 77% increase in economic activity in less than 3 years is extraordinary but put in the context of the rest of the USA where activity is still sluggish,the Michigan recovery story seems to be a fairytale.
For the last 3 years Phil Gerathy,Managing Director of USA Foreclosures Pty Ltd, based in Brisbane and Michigan, has been trawling the Michigan real estate market for high yield investments. He decided to focus on Michigan having tested many other US real estate markets. He says "Michigan has several unique economic factors that make it a standout investment opportunity. The Motor car industry has been looked after during the GFC by government and it is all based here in Michigan.There is a long tradition of a skilled workforce here as well as of innovation and yet during the GFC there was an enormous seachange in the real estate market in the state. All states were drowning in foreclosures but Michigan was hit harder than most yet benefited at the same time from a level of economic protection."
The Michigan Association of Realtors report that the number of single family homes sold in Michigan in July increased by 14% compared to July 2011. The average price the homes sold for in July was $116,116. This showed a 6.5% increase year on year.
Gerathy says "It is amazing that prices are still so low and that they have only gone up by an average of 6.5%. We have realised capital gains of north of 50% on most investments in 2011 and expect the same for 2012 and 2013. We have guaranteed a minimum yield of 15% to our clients because we are generally targeting 21-26%. Our team and network give us access to the real deals that the public tend not to get and our clients are building wealth because with the Australian and US Dollars at parity, it really is a nobrainer."
US economic outlook is strengthening and ever since Warren Buffett went on CNBC a few months ago and said "If i had a way of buying a couple of hundred thousand single family homes and had a way of managing them.....I would load up on them", the housing market has been focused on by those invested in the stock market.