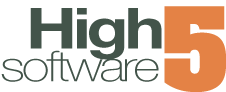 Kenmore, WA (PRWEB) May 27, 2011
High 5 Software today announced the latest release of Service Management Enterprise 7.1, its flagship product that synchronizes field and office operations for service based organizations.
President and CEO, Mark Stair said, "Our team works closely with our customers to ensure their service business is successful with our software. We've always prided ourselves on our true two way synchronization with QuickBooks and integrated functionality that enables customers to better manage their customers, work orders, inventory, proposals, and field operations from initial customer contact to invoicing and getting paid. But, our real advantage is that we include customers in our innovation process, so the latest release reflects the needs of our growing customer base."
Features new to Service Management Enterprise (SME) include auditing and technician compliance, unlimited custom fields, inventory allocation, email to database and bar code and mobile device support.
"SME's software has dramatically increased our company's focus on process, allowing us to improve customer service, capture total service revenue and decrease working capital used to support customer accounts receivable. We are very happy to be a customer, " said Chris Christopher, owner of CIK Power Distributors, who provide services for cell site construction, maintenance, and modification for major wireless mobile operators, including Verizon Wireless. Chris added, "High 5 was happy to accommodate our unique needs around scheduling and dispatch. They also worked with us to add unlimited custom fields and added a Microsoft Excel data connection to reproduce our Key Performance Indicators in real-time on a large format digital dashboard."
More details on SME 7.1 may be found on the company website at http://high5software.com/7.1/Features
About High 5 Software
Since 1989, High 5 Software has been providing service businesses and departments of Global 500 companies with Service Management Enterprise software that synchronizes field and office operations so employees can focus on creating value for customers and growing and protecting revenue. Located in Kenmore, WA (just outside of Seattle), High 5 has customers in virtually every facet of the service industry, and has established itself as a premier supplier of service management software. Industries served include Fire & Safety, HVAC, Security, Telecom, IT Service Providers, Electrical, Plumbing, Construction, and a variety of others whose service operations include equipment inspection, maintenance, repair, installation, service dispatch scheduling, or subcontractor management.
Media Inquiries:
Greg Olson, Delightability
(206) 356-8811
###