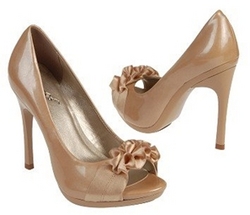 As one of the season's most popular trends, every woman should own a pair of nude heels
Santa Barbara, CA (Vocus) April 1, 2010
Spring has sprung so get ready to go nude! myShoes.com, a new and innovative shoe search site that helps women find the perfect pair of shoes at the best price from hundreds of stores, is helping ladies score long legs with the season's must-have footwear trend - Nude Shoes.
"As one of the season's most popular trends, every woman should own a pair of nude heels," says Andrea Woroch, public relations expert at myShoes.com. "Not only does the barely-there color go with just about any outfit, but nude shoes create the impression of leaner and longer looking legs - and what woman doesn't want that!"
A spring and summer wardrobe staple, heels in skin tone colors provide a continuous line that extends the look of every gal's legs. To attain the look of never-ending legs, ladies should aim for a nude hue within a few shades of skin color. Adding height to women's shoes is another way to get more length. Try peep-toe high heels, sky-high platforms and caged sandals for a trendy look.
Check out these other hot spring trends available at myShoes.com:

Bright Suedes – Don't put away this cold weather style just yet. This spring, suede unexpectedly warms up to ultra-bright colors. Look for trendy suede shoes in colors that pop like fuchsia and yellow.
Unusual Peep-Toes – From open to peep, spring is exposing toes in unpredictable places. One of the hottest styles is peep-toe booties which provide an unexpected flash of color.
Womanly Oxfords – Menswear-inspired pieces are hot for spring and summer. Think structured twills and relaxed separates like vests, trench coats, and trouser pants. Get in on the trend with oxford shoes which are among the easiest of trendy shoes to wear. From flat to platform, figure out which boy-meets-girl styles fit the look for work and play.
Frill-Seekers – Feminine ruffles and frills compliment spring's floral fashion trend. Strut the day and night away in sandals or pumps adorned in bows, charms, ribbon and straps.
Strappy Snakeskin – Sandals in fake snake are especially popular and look luxurious even on an inexpensive pair. Look for snakeskin shoes in jewel tones like green to pair with denim and turquoise or amber jewelry.
Not sure where to score spring's most fitting styles? Take the shoe hunt to the Web where it's easier to compare styles and prices from store-to-store.
The best place to start; http://www.myShoes.com is an innovative shoe search site that helps women find the perfect pair of shoes at the best price from hundreds of stores – all according to personal style. Based on a comprehensive search capability, women can create a customized shoe search by selecting a specific color, style, heel height, brand, feature and/or price range. Based on the criteria entered, the site pulls matching shoes from hundreds of stores like Zappos, Macy's, DSW, Nordstrom's, Steve Madden, Shoes.com, Piperlime, Target and many others. Once a shopper finds the perfect pair, myShoes.com lists all the stores that sell the same shoe and includes price information, shipping and return rates, and applies any available coupon codes from PromotionalCodes.com to provide the lowest price instantly.
Searching for the season's hottest shoe styles at prices that are affordable has never been easier so, get ready to go nude!
Andrea Woroch
SurfMyAds.com, Inc.
Phone: (805) 883-1000 x111
###