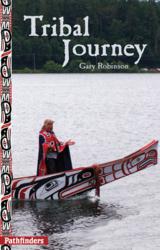 ...books that are a gateway to becoming a better reader, reconnecting with cultural traditions, and understanding the complexity of life.
Summertown, TN (PRWEB) December 28, 2012
A specific genre of novels are know as high/low books—written at a lower reading level but with high-interest, age-appropriate plots. Managing editor Kathie Hanson was inspired to launch PathFinders by a conversation she had with Lisa Mitten, American Indian Library Association member and reviewer for CHOICE Magazine. Mitten had explained the need for hi/low books for Native students. This sentiment was repeatedly expressed in conversations Hanson had with teachers and school officials at the National Indian Education Association Convention.
Otherwise known in the industry as reluctant readers, these books feature linear story lines, limited vocabulary and short sentences. The layout and print size also contribute in making the books easier to read. The books which debut early next year are Thunder on the Plains, Little Brother of War, and Tribal Journey written by Cherokee/Choctaw writer and filmmaker Gary Robinson. Danny Blackgoat, written by award winning Choctaw author Tim Tingle, will be available in March 2013.
Hanson has been amazed at the enthusiastic support she has received from well-known Native authors and librarians, as well as teachers. A former teacher herself, Hanson is excited about making available books that are a gateway to becoming a better reader, reconnecting with cultural traditions, and understanding the complexity of life.
7th Generation—an imprint of Native Voices—has garnered success with their Native Trailblazers Series. Geared for juvenile readers, these books follow a biographical format profiling a group of contemporary and historic Native and First Nation individuals in specific fields whose achievements and success have reached beyond their own communities. Individual books in the series have received the Moonbeam Children's Book Award, Next Generation Indie Book Awards, and Foreword Reviews Book of the Year Finalist. The entire series received the 2012 Honor Books recognition by the American Indian Library Association Youth Literature Award.
The goal of the Native Trailblazer Series is to inspire students with Native role models who are leaders and visionaries. Although written with the Native student in mind, these books are fascinating reading for all kids and help erase stereotypes about Indians. The most recent release — Native Writers: Voices of Power (2012) — featured ten influential Native writers whose novels, short stories, poems, and plays encompass the soul of Native life. The entertaining and poignant creative works of these writers hopefully will inspire young readers to continue their education and reach for their own successes. Tim Tingle, Sherman Alexie, and Joseph Bruchac were among those featured in the book. All of the Trailblazer series and numerous books on Native American culture can be seen at the Native Voices web site.
For more information on the PathFinders or Native Trailblazers Series, contact Kathie Hanson, Managing Editor, or John Schweri, Sales Manager for Native Voices Books.