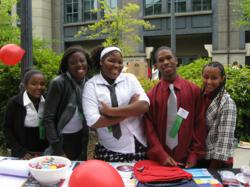 Largest youth business incubator in the country
Redwood City, CA (PRWEB) May 12, 2011
BUILD, the largest youth business incubator in the country, will host its 12th annual Youth Business Plan Competition this Saturday at Stanford. BUILD uses entrepreneurship to excite and propel disengaged, low income students through high school to college success. The nonprofit serves more than 500 students across the Peninsula and Oakland.
At the event, more than one hundred 9th grade students and their mentors will present innovative business ideas in two rounds of competition. Winners receive entrance to BUILD's Youth Academic and Business Incubator, where they launch their business. The judging panel is made up of Silicon Valley all-stars. This year's roster includes:
Ronnie Lott, Pro Football Hall of Famer
David Hornik, Partner, August Capital
Cipora Herman, VP of Finance & Treasurer at Facebook
James Lianides, Ed.D., Superintendent, Sequoia Union High School District
Russell B. Pyne, Managing Partner, Atrium Capital
Erika Brown Ekiel, Director of Marketing, Greylock Partners
Eduardo Rallo, Managing Partner, Pacific Community Management
Sandra Tripp, VP, At-Risk Populations, Thrive Research
Event details:
Peninsula 12th Annual Youth Business Plan Competition
Saturday, May 14th
12pm - 4pm
Bishop Auditorium, Stanford University, Graduate School of Business
In addition to the competition, 50 high school business teams will be marketing and selling their products at the event.
BUILD is also holding Youth Business Plan Competitions in Oakland (Sunday, May 22nd at the University of California Berkeley, Haas School of Business) and Washington DC (Saturday, May 21st at George Washington University, Duques and Funger Halls, 2201 G Street, NW).
Earlier this year, Jack Dorsey, Twitter founder and CEO of Square, joined BUILD's national board. Facebook, Yahoo, Google, and Microsoft hosted BUILD's Showcase event last month, where students prepared and fine-tuned their business plan presentations. BUILD has received $4.6 million in funding and expects to raise the same amount this year.
About BUILD
Founded in 1999, BUILD believes that the power of student ideas in action drives youth to reach their fullest potential in school and beyond. The four-year high school program offers a unique blend of entrepreneurship, academics, and personal support that attracts and motivates many students who are otherwise at high risk of failing classes and dropping out of high school.
BUILD students develop their own business ideas, write business plans, pitch to funders, and launch real businesses. This real-world business experience makes school relevant and motivates them to succeed. To help them become college-eligible, students also receive individualized academic support and advising for their school-work and college planning.
BUILD currently serves 700 high school students at programs located in East Palo Alto and Oakland, CA; Washington DC; with a new site to be launched in Boston, MA.
###