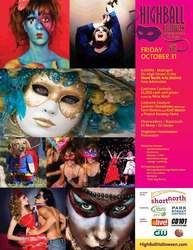 Columbus, OH (Vocus) October 14, 2008
In what's being billed as part Carnivale and part Mardi Gras, with a pinch of Halloween, Columbus' Short North Arts District will celebrate in its characteristic wildly creative style as it debuts HighBall Halloween: Masquerade on High. On Friday, Oct. 31, 2008, the free event will kick off at 6 p.m. with live music, a dance DJ, an unforgettable fashion show, a pet costume contest and a parade of costumes from beautiful to bizarre and fancy to fantastical.
Columbus fashion designers are being called upon to bring out their top designs to be displayed on the 40-foot stage as drag queen extraordinaire Nina West introduces each design. Project Runway's Kelli Martin and Terri Stevens will be featured as well. Four judges will crown one designer the HighBall Couture Costume Designer of the Year, who will receive a $1,000 prize package.
Thousands of dollars in cash and prizes will be awarded to costume contest winners in four categories: best drag king and queen, best celebrity look-a-like, best tag team (for teams of two or more people) and most artistically creative. Contestants can register the night of the event at the HighBall check-in station.
Pet owners are encouraged to dress their pets up in creative outfits and enter them to win prizes for most whimsical, most colorful, most outrageous, best couple (owner and pet) and most fabulous costume. Details and registration information are available online at http://www.highballhalloween.com.
Columbus is a city unlike any other. Vibrant and alive, Ohio's capital city is known for its unique style: an uncommon blend of neighborhoods, events, attractions and accommodations. Free visitors guides, maps and complete information about visiting Columbus are available from Experience Columbus, the region's convention and visitors bureau, by calling 1-866-EXP-COLS or visiting http://www.ExperienceColumbus.com .The web site offers on-line booking at more than 125 hotels and the ability to build a personal itinerary though its "My Planner" feature.
Additional information, fact checking, color images, and press trips available.
Contact Scott Peacock (614) 222-6104 or SPeacock@ExperienceColumbus.com.
###