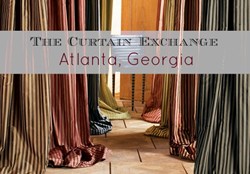 'We are touched to be able to be involved with our community in this way, and we think that it is such a special opportunity to be able to provide the drapery that will hang in this historical location.'
Atlanta, GA (PRWEB) August 09, 2013
The Curtain Exchange of Atlanta, a seller of high end window treatments, has announced that the store has been awarded with the opportunity to serve a historic Atlanta church. The Curtain Exchange will assist the Basilica of the Sacred Heart of Jesus in replacing the curtains that hang behind the crucifix in the church's sanctuary.
"We are incredibly honored to be able to serve the church in this way," says The Curtain Exchange co-owner Jim Waddell. "We are touched to be able to be involved with our community in this way, and we think that it is such a special opportunity to be able to provide the drapery that will hang in this historical location."
The Basilica of the Sacred Heart of Jesus is a historical Atlanta church that was founded in 1880. The church was originally housed in a small wooden building located near the current building and known as Saints Peter and Paul. The parish is now housed in a beautiful church in the style of French Romanesque, designed by W.T. Downing in 1897, when the church changed locations to avoid the encroaching commercial district of the previous location.
The Curtain Exchange offers custom luxury drapes and designer drapery and window treatments in Atlanta, Georgia. In addition to a constantly updated line of fabrics that may be selected from to create custom draperies, The Curtain Exchange also carries a distinctive selection of ready-to-buy curtain styles and offers drapery hardware and installation. The store's in-house consultants are happy to work with guests in-store or at home, and customers are encouraged to take advantage of The Curtain Exchange's 48-hour take home approval process. All of The Curtain Exchange's draperies are made in the USA. For more information or to schedule an in-home consultation, please visit The Curtain Exchange online or on Facebook.