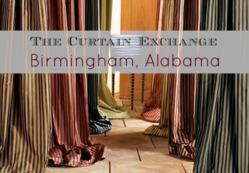 A true escape doesn't have to involve travel. You can have it in your own home
Birmingham, AL (PRWEB) April 20, 2013
From April 20 through May 5, 2013, the Decorators' ShowHouse in Birmingham is open to the masses to explore and admire. The owner of The Curtain Exchange of Birmingham Lynette Mantooth and her design team from Mantooth Interiors were featured in the April issue of Over The Mountain Journal as participants in the décor of the ShowHouse master bedroom, which is approximately 1,200 square feet. Mantooth's vision of the master bedroom was a serene, soothing oasis of tranquility, which is exactly what she accomplished. Walls were repainted Spanish white to add light to the room, crystal chandeliers were hung at various heights, blues and greens were splashed throughout, and tiered silk and taffeta draperies framed the windows. In addition, the bedding incorporated decorative pillows and linens of velvet, silk and cotton. With over 10 years of experience participating in the Decorators' ShowHouse, Mantooth wanted to create a contemporary yet sophisticated look this year.
"A true escape doesn't have to involve travel. You can have it in your own home," quotes Mantooth in the article of Over The Mountain Journal. "I think people come to the showhouse to see things they don't expect to see."
The 2013 Decorators' ShowHouse is presented by the Symphony Volunteer Council of the Alabama Symphonic Association, Inc., and The Curtain Exchange of Birmingham proudly supported this cause through its sneak-peek ticket giveaway in its store on April 13th. The Curtain Exchange offers custom luxury drapes and ready-made designer drapery and window treatments in Birmingham, Alabama. In addition to a constantly updated line of fabrics that may be selected from to create custom draperies, The Curtain Exchange also carries a distinctive selection of ready-made curtain styles and offers drapery hardware and installation. The store's in-house consultants are happy to work with guests in-store or at home, and customers are encouraged to take advantage of The Curtain Exchange's 48 hour take home approval process. All of The Curtain Exchange's draperies are made in the USA. For more information or to schedule an in-home consultation, please visit thecurtainexchange.com.