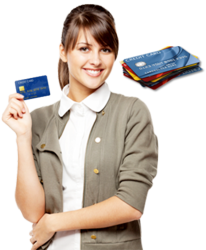 Greenville, SC (PRWEB) June 14, 2013
In great contrast to the past, anyone at all can qualify for a quality, major name credit card. Until recently, those with bad credit scores or other financial struggles couldn't hope to be approved for a good credit card. The only card providers that considered such applicants, had a tendency to be untrustworthy and often led to more debt for the applicant. Credit Help Cards is a truly unique company in that they have a firm desire to help their clients as much as possible.
At Credit Help Cards, no one is turned away due to credit scores or histories, and their credit card agreements are exceptional. Their system is specifically designed to serve the needs of those with bad credit, and they focus most of their efforts on increasing their approval percentages. Recently the company announced that they would be applying the final touches on their system, in an attempt to raise their approval percentages higher than their usual record of 98.9%.
This may seem impossible, but the incredible accomplishments displayed by this company in only their first year of business, indicate that this organization is capable of the impossible. To apply today visit http://credithelpcards.com/.
About CHC
CHC is the leading credit card finance provider in USA fully dedicated to help its customers acquire a card regardless of past history. They design and develop customized for those with no, bad or even great credit. Voted the best for "Quality Customer Service; Best National CC Service" by thousands of people, their finance experts focus in providing its customers information and various tools available for different card offers, help them to choose the best that fits their goals and needs.