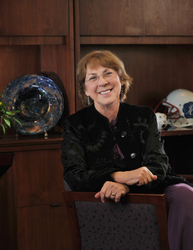 Roanoke, VA (PRWEB) May 5, 2009
While other colleges are concerned about declining enrollments, Roanoke's Jefferson College of Health Sciences is on track for continued strong enrollment as the institution celebrates the career of President Dr. Carol M. Seavor.
Dr. Seavor began her tenure as President of Jefferson College of Health Sciences on Oct. 1, 2002 and has led the College through a period of unprecedented growth in both enrollment and curriculum. "It has been my honor and privilege to lead this College", Seavor says. "Having such an opportunity has been the perfect culmination to my career in nursing and healthcare. I have nothing but appreciation and admiration for the faculty, staff and students of Jefferson College and with deep gratitude to Carilion Clinic for supporting me in this endeavor, as well as for its commitment to furthering the education of our students, the healthcare professionals of tomorrow."
Dr. Seavor partnered with John W. Dysart, President of The Dysart Group, Inc. a Charlotte, NC based higher education consulting firm specializing in recruitment, financial aid and retention at colleges and universities early in her Presidency. The implementation of a new recruitment model, revised financial aid tactics and more strategic pricing and tuition strategies enabled the College to realize unprecedented growth. In a short period of time, admission applications increased by more than 150%. New student enrollments rocketed to historical record levels while JCHS expanded the number of students by 60%! Academic program offerings were significantly enhanced, including the addition of four baccalaureate programs and three graduate programs. The newest of these programs, Emergency Services at the baccalaureate level, will sit its first class this fall.
Growth has fueled changes across campus. Meal plans for resident students have been introduced for the first time. Co-curricular opportunities have exploded with the introduction of new campus clubs and organizations. Amenities for students living on campus have increased and the JCHS recently welcomed it first College mascot! The physical plant has expanded while major changes have been made in vital areas such as academic advising, pre-registration and course selection and academic support services.
Carol is also shepherding JCHS's expansion into the Carilion Roanoke Community Hospital building after Carilion Clinic consolidated services at Carilion Roanoke Memorial Hospital in August 2007.
Jefferson College of Health Sciences is poised for another successful year. While other institutions are looking at retrenchment and budget cuts, JCHS is moving forward in an aggressive manner to meet the growing health care needs in the local community after completing six consecutive years of growth.
Dr. Seavor's current position caps a distinguished academic career. She previously served as Associate Dean for Academic Affairs at the College of Nursing at the University of Tennessee in Knoxville, Dean of the School of Nursing for Charleston Southern University and Chair of the Nursing Department and Assistant Dean of St. Joseph's College.
The legacy that Dr. Seavor leaves at JCHS is one of continued growth and academic excellence in a broad range of programs. Her dedication and hard work over the past seven years ensures the College will continue to graduate highly qualified healthcare professionals whose expertise will benefit us all for years to come.
About Jefferson College of Health Sciences:
Jefferson College of Health Sciences is a professional health sciences college located in Roanoke, Virginia, offering the Master of Science in Nursing, Physician Assistant and Occupational Therapy and 12 baccalaureate and associate healthcare programs. The college enrolls approximately 1,000 undergraduate students and 80 graduate students annually, and employs approximately 70 full-time faculty. The overall student-tofaculty ratio is 15:1. For more information, please visit http://www.jchs.edu.
###