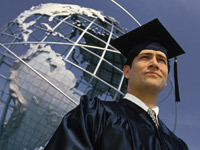 Tampa, FL (PRWEB) April 1, 2009 - With three-quarters of the fastest-
growing occupations requiring more than a high school diploma, it is critical for each American to achieve at least one year of higher education or career training. That's the challenge President Obama issued recently in a speech to Congress that ushered in a renewed commitment to education.
Higher Education for All
University Alliance (UA) is proud to join the President in this critical endeavor of offering every American access to a high-quality education beyond high school. Providing delivery of 100% online degree and certificate programs from some of the country's leading institutions, UA extends a broad range of benefits including answering questions about student financial aid and offering technical support.
The importance of providing every working adult with convenient access to a quality degree or credential should never be underestimated. Adrian Murrullier, Executive Vice President of Student Services from University Alliance said, "Countless studies show education directly translates to higher salaries, greater career mobility and fewer periods of unemployment. In fact, we've seen enrollments spike as more adults re-examine their credentials in light of rising unemployment rates and a shaky economy. President Obama's speech repeatedly stressed the importance of preparing Americans for career success, and UA is dedicated to arming every American with sought-after skills and critical knowledge to compete in today's competitive job market."
About University Alliance Online
The University Alliance facilitates the promotion and online delivery of associate's, bachelor's and master's degrees, as well as professional certificate programs from the nation's leading traditional universities and institutions. Powered by UA's technology and support services, our university partners have surpassed 300,000 online enrollments -- making UA the largest facilitator of e-learning in the country. University Alliance partners include Villanova University, the University of Notre Dame's Mendoza College of Business, Tulane University's Freeman School of Business, Thunderbird School of Global Management, the University of San Francisco, the University of South Florida, Florida Institute of Technology, The University of Scranton, Dominican University and Jacksonville University. Students can choose from Master Certificate programs in a variety of disciplines including Six Sigma and Internet Marketing - and degrees ranging from a Master of Arts in Education to one of the most popular online RN to BSN degree programs in the nation.
###