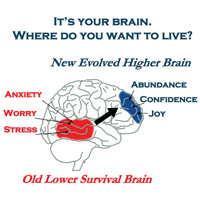 view the brain as a flowing river which over time becomes blocked by primitive lower brain functions at which point I bring in my system which eliminates the blockage which in turn opens up a life transformation which helps clients start moving
Chicago, IL (PRWEB) March 19, 2012
If your career path is in neutral and searching for an alternative direction an event being held in Chicago would qualify as a definite "Must Attend" for serious minded entrepreneurs. "I have created a Revolutionary System for Creating Personal Growth," said Dr. Michael Cotton of AWAKEN Higher Brain Living™, "and March 24th in the Windy City I will make a business presentation outlining the opportunity for qualified individuals to create a lucrative annual income via ownership of our expanding base of centers."
Those not familiar with Cotton's System will be introduced to what many experts classify as the most progressive 21st Century Neuroscience System which has roots that trace back to Yogi Mystics over 5000 years ago. "In a simplified version let us view the brain as a flowing river," said Cotton, "which over time becomes blocked by primitive lower brain functions at which point I bring in my system which eliminates the blockage which in turn opens up a life transformation which helps clients start moving down the river toward the "Lake of Immense Personal Growth."
Detailed information on Dr. Cotton's Life Changing System is available @:
http://www.higherbrainliving.com/trainingLIS.php
The event in Chicago will outline the steps involved for becoming a Licensed Center CEO. "What I offer is a business opportunity based on high level professionalism," said Cotton, "as studies have shown a major demand in today's society for the system I have created and look forward to this event as Chicago is a great town and one of the top cities for creative entrepreneurs ... and that is exactly what I am looking for as I continue to expand across the country."
Location:
Hyatt Lisle
1400 Corporetum Drive
Lisle, ILL 60532
630-852-1234
Day/Time: Saturday March 24th / 11:00AM - 1:00PM
Register: http://www.higherbrainliving.com/trainingLIS.php

Complimentary if registered before March 20th/ $95 after March 20th
AWAKEN Higher Brain Living™ promotes a movement of energy from the lower survival brain to the higher part of the brain so a person can thrive in all areas of their life. Created by Dr. Michael Cotton, Higher Brain Living® signals a major physiological shift in the transformation of humanity. A one-of-a-kind technique that frees fear-based lower brains, Higher Brain Living® offers clients the chance to create an extraordinary new life, to thrive, to let go of stress and overwhelm, to experience joy, confidence, and passion and to grow and evolve every day. Each client is provided a map and tools to be able to execute higher brain physiology which allows a new way to be, and a new way to do in the world. For more information go to http://www.higherbrainliving.com/