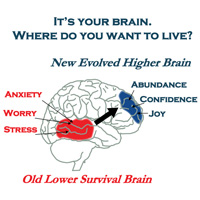 This is a landmark moment in the Field of Personal Transformation with millions of folks in desperate need of what Higher Brain Living™ can offer
Chicago, IL (PRWEB) March 14, 2012
For individuals that have been affected by the job market meltdown an Innovative Business Model tied into "Become part of a Team & Transforming Medicine, Psychology & Spirituality is creating the Opportunity for true business ownership community that is changing the world," said Dr. Michael Cotton who is the Founder of AWAKEN Higher Brain Living™. Cotton created a program that focuses on energizing the highest part of the grain which in turn helps humanity thrive in all dimensions of their lives. "This is a landmark moment in the Field of Personal Transformation," said Cotton, "with millions of folks in desperate need of what Higher Brain Living™ can offer and for Entrepreneurs the potential is massive as I currently have only five centers in the Midwest and have the demand that will require massive expansion in the upcoming years."
Those not familiar with Cotton's Program in the Chicago Marketplace will have an opportunity on March 24th to attend a Complimentary Overview of the entire Program and the Licensee Opportunity. "I refer to this as a Purpose Driven Movement to Change the World," said Cotton, "and what folks at the Chicago Event will learn is Energizing the Human Brain promotes Physical, Emotional, Spiritual & Mental Rejuvenation with an introduction of the newest part of the brain called the Prefrontal Cortex which works in helping the body facilitate feelings related to Inner Calm, Power & Meaning and encourage all to take notes from the following link and video which explains in detail this incredible program ..."
http://www.higherbrainliving.com/trainingLIS.php
If owning a career defined by the word CEO is a goal in 2012 then Saturday March 24th will qualify as a definite "Must Attend" event for those in or near Chicago. "A low start-up cost to open your very own Center with an annual income potential of $300,000 defines what I will outline for those in attendance," said Cotton, "and look forward to sharing information that will positively affect the lives of all that decide to become part of a great program and wonderful opportunity."
Location:
Hyatt Lisle
1400 Corporetum Drive
Lisle, ILL 60532
630-852-124
Day/Time:
Saturday March 24th / 11:00AM - 1:00PM

AWAKEN Higher Brain Living™ promotes a movement of energy from the lower survival brain to the higher part of the brain so a person can thrive in all areas of their life. Created by Dr. Michael Cotton, Higher Brain Living™ signals a major physiological shift in the transformation of humanity. A one-of-a-kind technique that frees fear-based lower brains, Higher Brain Living™ offers clients the chance to create an extraordinary new life, to thrive, to let go of stress and overwhelm, to experience joy, confidence, and passion and to grow and evolve every day. Each client is provided a map and tools to be able to execute higher brain physiology which allows a new way to be, and a new way to do in the world. For more information go to http://www.higherbrainliving.com/