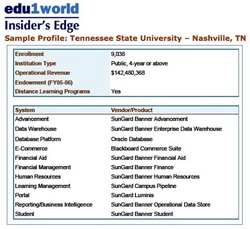 This business alliance gives us another opportunity to share our higher education insight with the industry.
Irvington, VA (Vocus) September 9, 2009
The Tambellini Group, a consultancy providing market insights to the higher education technology sector, and Datatel Inc., a leading provider of technology solutions and professional business services to higher education institutions throughout North America, announced today that they have agreed to work together through March 2011 in a business alliance arrangement which will allow for an unprecedented exchange of proprietary data between the parties.
In a reciprocal agreement, The Tambellini Group has received a perpetual license to Datatel's marketplace research data, and has in turn provided Datatel a license to their complete research database. The agreement will greatly expand the market research available to higher education technology professionals served by both organizations.
The Tambellini Group makes their market research data available at no charge to higher education institution employees via edu1world.org, Tambellini's professional networking website for the higher education technology community. The edu1world Higher Education Institution Technology Profile Database currently lists profile data on over 3,900 institutions and includes more than 23,000 records on vendor products in use around the world.
The Tambellini Group (which acquired Synergy3 earlier this year) has been researching education institution technology profile data since 2001 and routinely uses the results of the research for custom research projects. Edu1world members use the information to find peer institutions to consult regarding potential technology solutions.
Datatel has been researching higher education institution market data for more than twenty years. Over time, the company has tracked key historical data points that would be difficult for The Tambellini Group to recreate. In turn, The Tambellini Group tracks over 80 data fields. Exchanging this data and creating a master database will position both organizations to better serve higher education technology decision makers in finding the best solutions for their needs.
According to Tambellini Group CEO Vicki Tambellini, "We are pleased to announce this important relationship. In the last 60 days we've had more than 70 institutions request this type of information. The licensing of Datatel's marketplace research data will help validate that, where our records overlap, we have accurate market data. This business alliance is a big step toward our goal of open, transparent communication between and among the higher education technology communities whom we serve."
"We continue to look for ways to bring value to higher education," said Liz Murphy, Datatel Chief Client Officer. "This business alliance gives us another opportunity to share our higher education insight with the industry."
According to Tambellini, technology vendors and consultants are both welcome and encouraged to participate in the edu1world communities of practice and to subscribe to the edu1world Higher Education Institution Technology Profile Database for a nominal monthly fee.
For additional information regarding edu1world, The Tambellini Group, and opportunities to license Tambellini's market research, please contact Vicki Tambellini. Full time higher education institution employees can register for edu1world.org at any time at no charge.
About The Tambellini Group
The Tambellini Group is a consultancy providing trusted market insights through innovative tools, high-quality research and industry expertise that minimizes the risks associated with technology purchase decisions, improves vendor-customer relationships, and enables breakthrough results for decision makers who work in or serve the education, government and not-for-profit markets. The Tambellini Group, founded and led by Vicki Tambellini, is headquartered in Irvington, Virginia.
Edu1world LLC serves higher education technology practitioners & providers, administrative professionals, vendors, associations, and faculty who are interested in and work with technology. The edu1world.org site is made up of virtual communities of practice where members from around the world connect, collaborate, communicate, and access the information they need to succeed. The edu1world mission is to deliver a state of the art web 2.0 SaaS application that builds transparency between technology vendors and educational institutions and unites the vendor community with the education industry for the benefit of all.
About Datatel Inc.
Datatel is the industry's most experienced provider of technology products, services, and insight to higher education. Colleges, universities, and technical schools across North America partner with Datatel to construct Strategic Academic Enterprises dedicated to achieving student success. The company has focused exclusively on higher education since 1968, and its technology is used by nearly 800 institutions serving more than five million students.
# # #