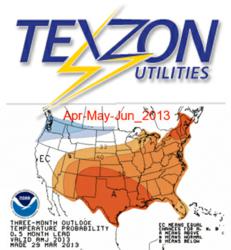 If natural gas prices stay where they are and temperatures are normal or higher, then power prices will be higher than last year
Dallas, TX (PRWEB) April 30, 2013
Texzon Utilities, a national energy management and procurement firm, is an independent and unbiased advocate to customers, leading companies to cost-effective, strategic energy solutions.
Texzon stays abreast of important developments in the market and advises customers of the optimal time to negotiate their energy contracts.
"Right now, there is a window of opportunity for companies to look at their contracts - especially if they are within a year of the contract renewal date - and look to extend it multiple years, possibly getting a rate better than their current rate," says, Larry Eon, VP Sales at Texzon.
"Rates are still very competitive at this time. Therefore you can obtain price certainty for up to five years by entering into a fixed price contract now. Nothing is perfect in this situation, but all indicators are that prices have much more ability to increase than to decrease."
From the Platt Summer 2013 Power Price Preview: Natural gas forward prices for June-August 2013 range from 35.6% to 61.3% more than the average for summer of 2012. "If natural gas prices stay where they are and temperatures are normal or higher, then power prices will be higher than last year," said James Carson, CEO of Risquant, an electricity market consultant based in St. Paul, Minnesota "The National Weather Service is predicting a long, hot summer everywhere in the US."
Misplaced Loyalties
Despite over a decade of deregulation in some areas, many people and companies have still never shopped around for a lower electric rate. In a recent article in the Dallas Morning News, Columnist Steve Blow notes, "some folks are paying substantially more for electricity out of loyalty," to the old monopoly. "As a result, they eventually were paying almost twice as much for electricty as I was."
With a multitude of retail electric providers out there, the choice can sometimes be confusing to businesses. Texzon takes the guesswork and the hassle out of choosing an electric provider. As an impartial advocate, Texzon specializes in helping customers procure the best combination of price and contract terms to meet their energy needs, using a competitive process that shops their usage to many qualified suppliers.
About TEXZON
TEXZON is one of the nation's leading energy aggregators. In 2002, TEXZON started brokering electricity and gas in the deregulated markets. TEXZON was recognized in "Entrepreneur Magazine" as one of the "Hot 100" Fastest Growing Businesses in America. "Inc. Magazine" also listed TEXZON as a top 20 energy company in "The Inc. 500." TEXZON currently operates in Texas, Ohio, Pennsylvania and New Jersey. TEXZON is also a developer of green energy storage technology.
http://www.TEXZON.net