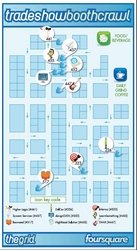 At Higher Logic we focus on innovation. We decided to try something unique for the Expo floor. This contest uses a geo-location based-app and simulates a virtual environment to generate attendee enthusiam. Rob Wenger, CEO at Higher Logic.
Washington, DC (PRWEB) August 18, 2010
Higher Logic and Syscom Services announce "The Tradeshow Booth Crawl" contest at the American Society of Association Executives (ASAE) & the Center for Association Leadership Annual Meeting & Expo being held in Los Angeles August 22-23, 2010.
Higher Logic™ and Syscom Services teamed up with seven association technology solution providers—DelCor, Design Data, TMA Resources, Highroad Solutions, Boxwood, Informz and LearnSomething—to creatively use social technology to increase tradeshow buzz via various communication channels and drive booth traffic in a never-before seen social experiment called The Technology Booth Crawl.
Lauren Wolfe, Higher Logic's Marketing and Communications Manager, and Jim Kelly, Chief Operating Officer at Syscom Services, crafted the bold initiative to beta test this social experiment using social tools including Foursquare and Twitter. The idea is similar to a typical tradeshow treasure hunt contest. The Technology Booth Crawl incorporates the geo-location based app Foursquare to verify attendee booth check-in's and the social network/microblog Twitter to sync the check-in's with attendee tweets.
A custom designed grid will serve as the map for the contest, highlighting participating venues (booths) while simulating the actual tradeshow floor. Attendees will visit the participating expo booths and check-in using the Foursquare mobile app. Simultaneously at check-in, attendees will tweet a text-based post about what at they discovered in each booth using Twitter. The tweet will include both the venue/booth "hashtag" and the conference "hashtag"—#asae10—so that check-in's will aggregate on both Twitter and the ASAE conference Twitter stream. The combination of synced Foursquare check-in's with tweets will provide a consistent message of visibility throughout the conference on and off the tradeshow floor— WOM Marketing 3.0.
Additionally, each venue/booth will include several informational takeaways in the tip tab of the Foursquare venue. After check-in, attendees can browse the tips, including key information such as current promotions about new products and services or additional giveaway item details. Attendees will want to check out each venue's tips to enhance their learning experience.
"To be a leader, you must take the fear out of innovation," states Syscom Services COO Jim Kelly. "Technology is changing the way we build relationships, but people create relationships. The Technology Booth Crawl is designed with people in mind. We hope this social experiment will not only increase traffic to our booths and bring attention to our new products and services, but create a platform for engagement among conference attendees. Let's give them something to talk about!"
The "Mayor Ceremony" and prize distribution will be held on Tuesday, August 24, 2010 for all association participants who have successfully checked into each participating venue (booth) and submitted their completed grid. The Mayorship grand prize and several social badge prizes will be given out totaling over $2,500.
About Higher Logic
Higher Logic provides innovative professional social networking and collaboration solutions for associations and non-profits seeking to attract new members and energize existing members. The Connected Community™ application suite empowers members to exchange ideas, share best practices and collaborate- anytime, anywhere. Higher Logic's suite of products offer a new dimension of value to constituents, with Connected Community's pre-built integration to leading association management systems and M² ™ - Mobile Membership™ smart phone app. Higher Logic delivers solutions so member-based organizations can increase their presence and attract a new generation of global members.
Follow Higher Logic on Facebook, LinkedIn and Twitter.
About Syscom Services
Founded in 1986, Syscom Services has pioneered the way organizations effectively communicate with the people they rely on most. Our teams of experts collaborate with organizations on solutions from web development and content management systems to automation using forms processing technology, network based fax systems and document management systems. Whether clients want to get an existing web site under control using a content management system, or streamline their operations with a fax server, document management or forms processing system, they can leverage Syscom Services years of experience and technology tools to make their e-projects successful.
###