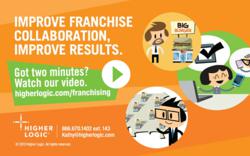 Rob Wenger, Higher Logic Chief Executive Officer said,"Connected Community integrates with CRMs to allow franchises to securely and confidently support online collaboration to drive their business growth."
Washington, D.C. (PRWEB) February 14, 2013
Higher Logic, announces the Connected Community Platform expansion into the franchise market for 2013. Developed initially for non-profits and associations, with 400 clients and 90,000 communities, Higher Logic is a leader in the private, professional collaboration software space. Mobile and cloud-deployed services enable franchisors to build their franchisee community through increased franchisee engagement.
"Our clients depend on Connected Community, a private collaboration platform to help them maximize the value of their most critical member-facing activities and grow revenue," said Rob Wenger, Chief Executive Officer of Higher Logic. "Connected Community integrates with CRMs to allow franchises to securely and confidently support online collaboration to drive their business growth."
Higher Logic's leading-edge technology is used to create a vibrant, secure, online community that stimulates discussions and provides a platform for mentoring and innovation. Connected Community keeps operations relevant and engaged, enabling franchisors to:

Increase unit revenue.
Decrease training and travel costs.
Improve local market intelligence.
Attract new franchisees.
To launch the introduction, Higher Logic partnered with the International Franchise Association (IFA) to provide a community for their 16,000 members. The IFA Connected Community, called FranSocial, powered by Higher Logic, is a place for members to pose questions to industry experts, share documents, blogs, and videos, and participate in discussions with franchise professionals with common interests.
Higher Logic welcomed Kathleen Schneider as Vice President of the Franchise Division in November of 2012. As a company officer and Vice President of SRC – An Aetna Company, she has twenty years of experience with large franchise organizations and she understands their need to become more efficient and lead with innovation in our global economy. "When I first interacted with the Connected Community, I realized it was a missing component for many companies," says Schneider. "While most businesses have systems to support the financial and business operations, what was often missing was the engagement - the peer sharing of ideas, celebrating success and helping others to be successful. As we learned with healthcare, engagement is not simply about providing a library of material to read."
Kyle Roberts also joined the franchise team as Director of the Franchise Division in November of 2012. As a company officer and President of Benefitsphere, she has twenty-three years experience working with the service industry and franchise organizations across the United States and internationally.
"We have already seen great interest in FranSocial from IFA members, leadership and staff," states Mark Lowry, Chief Revenue Officer for Higher Logic. "We're excited to be part of the 2013 IFA Annual Convention (Booth 256,258), and to have Kathy and Kyle onsite with our team."
"Connected Community franchisee intranet collaboration tools will keep franchise operations relevant and engaged -- it is exactly the value owners expect from their franchise investment," remarks Schneider. "At Higher Logic we have a commitment to care; with a high-demand for our product we maintain a focus on quality service for our customers and the community."
To connect with Kathy Schneider, find her at kathy(at)higherlogic(dot)com or call 714.459.5120. Visit Higher Logic's franchise collaboration website to learn more about Higher Logic and Connected Community.
ABOUT HIGHER LOGIC:
Higher Logic provides innovative professional social media and mobile applications for organizations worldwide that are seeking to create conversation, share knowledge and build community. Our premier offering, The Connected Community software suite, empowers organizations to share best practices and collaborate—anytime, anywhere. Learn more and follow @HigherLogic on Twitter.
ABOUT KATHLEEN SCHNEIDER:
Kathleen was a Vice President and Company Officer of SRC- An Aetna Company. She has twenty years experience as a third-party administrator in the insurance industry, overseeing both sales and service organizations, and ten years as a Director of Human Resources. Her focus has been assisting employers with applying advanced technology and creating outsourced solutions. As Director of HR/HRIS for a subsidiary of Chemed Corporation she oversaw Risk Management, Governmental Affairs, Benefits & Payroll, Employee and Labor Relations including company negotiations for five collective bargaining agreements. She holds a B.A. in Psychology, a Masters in Business Administration, a Lifetime Senior Professional in Human Resources (SPHR) certification and insurance licenses in multiple states.
ABOUT FRANSOCIAL:
FranSocial is the new IFA member-only online community that will launch during the association's 53rd Annual Convention in Las Vegas. It is a private, secure community for IFA members to connect, share ideas and get fast answers to important questions.