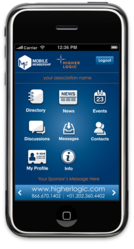 Members have the opportunity to engage with one another in a secure, social media platform. With new mobile app features, our members now have the added convenience of accessing one another wherever they are.
Washington, DC (PRWEB) May 29, 2011
The New Jersey Society of Certified Public Accountants (NJSCPA) introduced NJSCPA Mobile, the Society's new private community mobile app. This exciting, new mobile tool- M2 Mobile Membership- is offered through Higher Logic's Connected Community social media application, and is available on BlackBerry, Android, iPhone, iPad and iPod Touch mobile devices.
NJSCPA Mobile allows members to search, find and connect with other members; receive the latest professional news; and view Society events from their smartphone or mobile device. This new offering compliments the NJSCPA's popular private social media community, NJSCPA Connect.
"With NJSCPA Connect, members have the opportunity to engage with one another in a secure, online platform. By extending the community features to their mobile devices, our members now have the added convenience of accessing one another and viewing important industry news wherever they are," states Rachael Bell, NJSCPA Online Communications Manager.
Connected Community's M2 Mobile Membership application includes integration with both the Society's association management system and their community site. This integration allows NJSCPA Mobile to pre-populate all of the members' contact information which saves set-up time for members.
Features include:
Directory – Get quick access to fellow NJSCPA members. Search the directory by first name, last name or company. Click a member's phone number to dial them; click their email address to email them; or click their address to see their location on a map.
News – Read the latest professional and Society headlines, view the most recent postings in the NJSCPA Job Bank, access the NJSCPA Twitter feed, read recent blog postings and access resource documents posted to NJSCPA Connect.
Events – View upcoming NJSCPA events including seminars, conferences, webinars, chapter events, committee meetings and networking programs.
Discussions – Collaborate with other members and get answers to questions. Once logged in, members can post new messages, reply to another member's messages or easily follow the discussions.
Messages – View any direct messages received from fellow members through NJSCPA Connect right on their mobile device.
Contacts – Save NJSCPA member contacts directly to the mobile address book. Information is automatically updated when a member updates their online community profile.
According to Rob Wenger, Higher Logic CEO and CTO, "NJSCPA selected our Connected Community application with their future needs in mind. After seeing their members actively engaging with one another and sharing resources through NJSCPA Connect, they decided to move ahead with their mobile strategy. The introduction of NJSCPA Mobile extends the power of their community to further meet their members' requirements."
NJSCPA recently showcased NJSCPA Mobile at their New Jersey Accounting Business & Technology Show last week. For more information about Higher Logic's M2 Mobile app, visit http://www.higherlogic.com/mobile.
About Higher Logic
Higher Logic provides innovative professional social media and collaboration solutions for associations and nonprofits seeking to attract new members and energize existing members. The Connected Community™ application suite empowers members to exchange ideas, share best practices and collaborate- anytime, anywhere. Higher Logic's suite of products offer a new dimension of value to constituents, with Connected Community's pre-built integration to leading association management systems and M² ™ - Mobile Membership™ smartphone app. Higher Logic delivers solutions so member-based organizations can increase their presence and attract a new generation of global members.
Follow Higher Logic on Facebook, LinkedIn and Twitter.
About NJSCPA
With a membership of more than 15,000, the New Jersey Society of Certified Public Accountants (NJSCPA) is the largest professional organization serving the needs of Garden State CPAs. Representing the majority of New Jersey CPAs in public practice, industry, government and education, the NJSCPA supports members in fulfilling their professional responsibilities and achieving success through leadership, education, networking and community involvement initiatives.
###