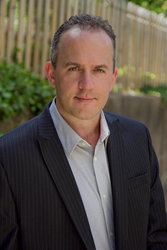 "Both myself, as well as everyone at Higher Logic, are incredibly honored to receive this award," said Steggles.
Washington, D.C. (PRWEB) October 29, 2014
Higher Logic President and Chief Customer Officer Andy Steggles has been chosen by Association TRENDS as the TRENDS Partner of the Year for 2015. Andy asserts that it is Higher Logic's "Customer First" culture that puts it at the top of associations' lists for software providers, and ensuring every client's success is a primary reason he and Higher Logic are receiving the award.
"Both myself, as well as everyone at Higher Logic, are incredibly honored to receive this award," Steggles said. "From day one, we've tried to differentiate ourselves by being a partner to associations, rather than a more traditional vendor. It's not just semantics—it's an important differentiation, emphasizing how our success is tied to the associations we help."
"Andy was an easy choice and an excellent one," TRENDS publisher Joel Poznansky said. "His background as a former association executive really helps him to understand the concerns of those who seek his advice and Higher Logic's services."
His award will be presented at the TRENDS 2015 Salute to Association Excellence on February 6, at the Capital Hilton in Washington, D.C. Among the fellow honorees for other TRENDS awards are the Leading Association Lobbyists, the TRENDS Young & Aspiring Association Professionals, All Media Contest winners and the TRENDS Association Executive of the Year.
About Association TRENDS
Association TRENDS keeps senior association executives informed with essential news, developments and insights that ensure they stay up to date, avoid problems and take advantage of opportunities in the association world. Learn more at http://www.associationtrends.com.
About Higher Logic
Higher Logic's Connected Community is the industry-leading, cloud-based community platform, with over 20 million engaged members in more than 100,000 communities. Organizations worldwide use Connected Community to bring like-minded people together in secure communities designed to ignite knowledge sharing, drive content creation, solve problems and improve performance. For more information, visit http://www.higherlogic.com.