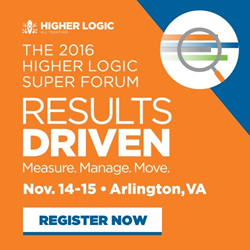 Higher Logic aims to host an event that brings together community managers, thought leaders, and all-around enthusiasts for learning and collaboration
Washington, D.C. (PRWEB) November 07, 2016
Higher Logic, the leader in online community platforms, announced today its final event program for the seventh annual Super Forum, an exclusive two-day training, educational, and social event for Higher Logic clients, partners, and community enthusiasts. The event will be November 14-15 at The Renaissance Arlington Capital View Hotel in Arlington, VA.
"[2015] was my first Higher Logic Super Forum and I learned so much," said Pam Burton, Web Content Editor and Manager for the National Center for State Courts. "The keynoters were both practical and inspirational, and I really liked how I learned as much from what attendees shared as I did from the session presenters – double value! My favorite session was the 45 Tips in 45 Minutes, Remixed. We'll be sending someone from our organization next year for sure!"
The Higher Logic Super Forum focuses on community training, education, and networking for community enthusiasts, thought leaders, partners, and Higher Logic clients. The event features keynotes by Ken Schmidt, legendary Former Director of Communications for Harley Davidson, Rob Wenger, CEO for Higher Logic, and our Community Expert Panel:
Vanessa DiMauro, CEO of Leader Networks
Rachel Happe, Co-Founder of The Community Roundtable
Richard Millington, Founder and Managing Director of FeverBee
David Spinks, Founder and CEO of CMX Media
The schedule also boasts one-on-one product consulting time, a new Client Innovation Lab, the opportunity to earn up to 10 CAE credits, and 39 breakout sessions encompassing four educational tracks: Marketing and Membership, Community Management, Technical, and Strategic/Executive.
"We love meeting with the people behind all of these great online communities every year at Super Forum," says Rob Wenger, CEO of Higher Logic. "Higher Logic aims to host an event that brings together community managers, thought leaders, and all-around enthusiasts for learning and collaboration. Super Forum has grown and evolved for the past seven years, and we can't wait to host our largest community event yet."
Higher Logic's Customer Appreciation Party will be held on Monday, November 14, at the 1776 Incubator Space in downtown Crystal City.
Registration and event details for the 2016 Super Forum are available on the event website. As an educational program related to the CAE examination content outline, full participation in the 2016 Higher Logic Super Forum is eligible for 10 CAE credits. For more information about the CAE credential or Approved Provider program, please visit http://www.whatiscae.org.
About Higher Logic
Higher Logic is an industry leader in cloud-based community platforms. Organizations worldwide use Higher Logic to bring people all together, by giving their community a home where they can interact, share ideas, answer questions and stay connected. Our goal is to help your organization with deeper engagement and meaningful interactions for your members, customers and prospects. Everything we do - the tools and features in our software, our services, partnerships, best practices - drives our ultimate goal of making your organization successful. Learn more at http://www.higherlogic.com.