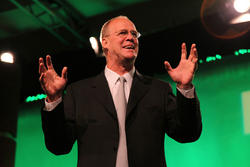 It's hard to miss Bob. His huge energy and zest for life make him a very entertaining speaker and dinner party guest!
Grand Haven, MI (Vocus) April 26, 2010
Bob Negen, retail expert, consultant, speaker and Founder of WhizBang! Training will be joining the HighestPurpose.org mentor team for its 2010 life and leadership consulting program.
Bob Negen discovered his entrepreneurial spirit at the young age of twenty-three and opened one of the world's first kite stores. In twenty years he helped change the public's perception of the kite from a child's toy to an "eco-friendly" hobby for families and people of all ages. In those twenty years he grew his company from $17,000 to over $3 million in annual sales and in 1998 the company was named "Retailer of the Year" by the Kite Trade Association.
A natural marketer, Bob is known for creating unique and successful promotions. His favorite, the Great Lakes Sport Kite Championships, grew into one of the largest, most prestigious kite events in the world. He was also instrumental in helping create a nation wide yo-yo boom. At one time his company employed eight full time yo-yo professionals performing in schools, malls, nationally broadcast parades, professional sporting events, and other large entertainment venues.
Steve Frazee, Executive Director of HighestPurpose.org, met Bob Negen while visiting friends in West Michigan. "It's hard to miss Bob. His huge energy and zest for life make him a very entertaining speaker and dinner party guest!" joked Frazee. Bob, and his business partner/ spouse, Susan Negen, eventually hired Frazee to provide business strategy consulting to their rapidly growing business. "Steve has a disciplined approach to business growth which was exactly what we needed," reports Bob. "Together we crafted a three year plan based on an interactive business model." Frazee recruited Bob to join the HighestPurpose.org mentor team because of Bob's dedication to helping small retailers succeed in today's difficult economy. "Independent retailers are the heart and soul of most towns, but most need help, which is where we come in" preaches Negen.
As part of the 2010 Highest Purpose.org mentor team, Negen will delight participants with stories of his journey to purpose, which he describes as "reestablishing the vibrancy of local downtown areas throughout the United States and Canada by teaching their retailers the skills they need to run successful businesses" Negen joins over a dozen other recognized speakers, authors and CEO's that guide the small cohort of talented participants throught HighestPurpose.org's remote learning curriculum via interactive video seminar. "Anyone that has been successful in business understands that doing well is as much about what you do as it is who you know," says Frazee. "Our participants are going to enjoy getting to know Bob Negen and learning from him how to do well by doing good."
About HighestPurpose.org
HighestPurpose.org provides guidance, training and community interaction to everyone seeking a life of purpose and meaning. The company offers free resources online through its Purpose Community website and also hosts an exclusive nine month life strategy program. Participants in the program work personally with over a dozen recognized leaders in the fields of psychology, business, spirituality and transformation as part of a remote learning curriculum designed to help each student find and live their Highest Purpose.
###