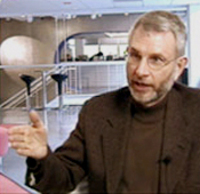 Jim and I first met when I was acting as CEO of a non-profit in Boulder, CO
Grand Haven, MI (Vocus) April 27, 2010
Jim Vollett, B. Comm., CMA, an Founder Vollett Executive Coaching was announced as the latest addition to the HighestPurpose.org 2010 mentoring team.. Jim has 25 years experience working with the senior ranks of some of the top organizations in the world. He works closely with the senior executives, as their individual and corporate coach, helping them improve their leadership and drive their organization forward. His clients have included senior executives, teams, and divisions from organizations such as: J. Walter Thompson, Jet Blue, Nike, Wieden + Kennedy, TBWAChiatDay, Citibank, and Fallon NY.
While working in venture capital, Jim discovered that far too often, the growth in successful companies stalled. Even the most successful executives inevitably reached a point where they were just not able to move the organization to the next level. Jim founded Vollett Executive Coaching in 1990 with the sole focus of addressing this issue, to resolve the challenge of moving from growth to sustained growth. This resolution requires a unique approach and is often focused on the executive talent that is leading the organization forward.
As part of the HighestPurpose.org mentoring team, Jim will use his unique business analysis, strategy, and process tools to help program participants identify opportunities and the challenges in their personal and professional lives. In coaching CEOs and senior executives, Jim has developed a unique understanding of the qualities behind great leaders. Students in the HighestPurpose.org life strategy program will be able to access Jim's wisdom and use it to build a plan to executive their own Highest Purpose.
Executive Director of Highest Purpose.org, Steve Frazee is thrilled to have Jim join the team. "Jim and I first met when I was acting as CEO of a non-profit in Boulder, CO," says Frazee." Vollett graciously provided pro bono consulting services to the non-profit and coached Frazee personally. Frazee had committed to raising $3,000,000 of fundraising commitment from donors for the non-profit in ninety days. "During a very stressful time Jim stood by my side and offered me pearl after pearl of wisdom," confides Frazee. "I'm not sure I could have raised the money without Jim Vollett's mentoring."
A portion of the curriculum for HighestPurpose.org's nine month remote learning class is inspired by Vollett's proprietary assessments and models. Anyone asking the question, [What now' in their lives will be very lucky to cross paths with Jim Vollett," praises Frazee. Vollett joins over a dozen recognized consultant, authors, speakers, and CEO's that make up the mentoring team at HighestPurpose.org.
About HighestPurpose.org
HighestPurpose.org provides guidance, training and community interaction to everyone seeking a life of purpose and meaning. The company offers free resources online through its Purpose Community website and also hosts an exclusive nine month life strategy program. Participants in the program work personally with over a dozen recognized leaders in the fields of psychology, business, spirituality, and transformation as part of a remote learning curriculum designed to help each student find and live their Highest Purpose.
# # #