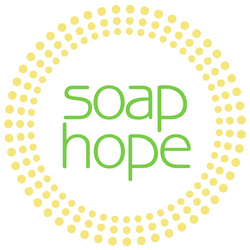 Salah led our team in the CEO role and brought tremendous discipline to our company during its growth phase
Grand Haven, MI (Vocus) May 1, 2010
Soap Hope is a leading online retailer of all-natural, high-quality soaps and body care products. The company was created to be a socially responsible company from end to end. All products are made from 100 percent natural ingredients, all packaging comes from reused materials, and all profits are used to support global microfinance initiatives.
Founded in 2008 by Dallas entrepreneurs Salah Boukadoum and Craig Tiritilli, Soap Hope operates under what the team calls the Good Returns model in which a business invests resources in organizations that impact the lives of those in need. The businesses receive a reciprocal benefit through increased community visibility and market awareness for their contributions. Soap Hope is the first in what the founders expect will be a series of companies that embrace the Good Returns model.
With the Good Returns model, Soap Hope supports empowerment and self-sufficiency through local and global microfinance initiatives. They focus their micro lending programs on women in order to extend even further the opportunity these women have to support their children and neighbors, lifting entire communities out of poverty. Micro lenders focus on borrowers who can't access funds through traditional sources. The system offers individuals in poverty a chance to succeed by giving small loans. The loan enables the women to purchase the necessary components for producing products that can be sold. Profit from sales is used to pay back their loans and also to feed their families and purchase more components for their businesses.
Mr. Boukadoum and Steve Frazee, Executive Director of HighestPurpose.org, worked together on a management team that founded and later sold a software development company. "Salah led our team in the CEO role and brought tremendous discipline to our company during its growth phase," said Frazee. "Salah Boukdadoum has a big heart and a brilliant mind." Boukadoum will work with program participants to share his story of purpose and discuss creating a life about meaning."
Boukadoum joins the exclusive mentoring team Frazee has formed to guide a select group of thrity-six students through its 2010 nine month life strategy program. Participants in the remote learning program will interact with mentors through interactive video sessions in addition to live weekend retreats and one to one coaching. "In addition to being a social entrepreneur, Salah is a world class pianist," said Frazee. Mr. Boukadom is expected to perform at one of the two live weekend events as part of the program.
Frazee and Boukadoum have worked on multiple projects together and provided business strategy consulting to companies including Microsoft, Costco, AT&T and MasterCard. "Steve has a remarkable ability to connect the right people together at the right time. He also has a unique combination of relationship-building and creative skills. He moves big ideas forward," said Boukadoum of his experience in working with Frazee. The two have been good friends for over a decade.
As part of the nine month Highest Purpose program, participants will work with exceptional leaders like Boukadoum. "Salah will help our students understand the realities of taking an idea and turning it into realty," describes Frazee. Each month students interact with mentors like Boukadoum in casual video seminars that enable students to get to know the program mentors in a personal way. "Our mentors understand that their job is to help our students create a life strategy that is both profound and realistic," adds Frazee. "Salah and I have helped each other with that. Now we are ready to do the same for others."
About Soap Hope
Texas businessmen, Salah Boukadoum and Craig Tiritilli, founded Soap Hope in 2008 after the sale of their technology company. Located in Dallas, TX the company promotes environmentally friendly business practices and invests 100 percent of its profits into micro lending funds for women entrepreneurs. The company is best known for carrying high-quality, handcrafted products to its online customers. Soap Hope sells products from Indigo Wild, Hugo Naturals, A Wild Soap Bar, Pangea Organics, and Fraiche. Soap Hope's products are 100% all-natural; free of all artificial preservatives, colors, and fragrances; paraben-free; and cruelty-free.
Visit http://www.soaphope.com for information on the company and products or contact Salah Boukadoum at 888-893-SOAP or salah at soaphope dot com.
About HighestPurpose.org
HighestPurpose.org provides guidance, training, and community to anyone wanting to create a life of purpose and meaning. The company offers free resources online through its Purpose Community website. It also hosts an exclusive nine month life strategy program annually for a select group of participants. Participants in the program work personally with over a dozen recognized leaders in the fields of psychology, business, spirituality, and transformation as part of a remote learning curriculum designed to help each student find and live their Highest Purpose.
Visit the company online at http://www.highestpurpose.org
# # #