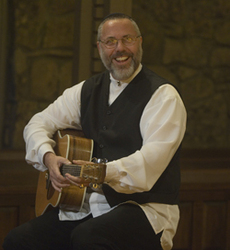 Rami is a beautiful human being with great wisdom to share
Grand Haven, MI (Vocus) April 29, 2010
Rabbi Rami Shapiro, prolific author, speaker, and adjunct professor of religious studies at Middle Tennessee State University, bring his deep knowledge of the world's spiritual traditions to HighestPurpose.org and its 2010 Mentor Team. Rabbi Rami, often called a "Holy Rascal" will join the team of over a dozen recognized authors, CEOs, and consultants as part of the HighestPurpose.org mentoring team. The team works with the company's clients through a unique, remote learning nine month program to help them clarify their highest purpose in life, and plan a strategy to live it in the world.
"Rami is a beautiful human being with great wisdom to share," says Steve Frazee, Executive Director of HighestPurpose.org. Shapiro and Frazee met on another project and became aware of Rabbi Rami's effort to capture on film the wisdom from multiple religious traditions. "When I watch the work Rami was doing with the Wisdom Keepers Project I knew he was a special teacher," shared Frazee.
Shapiro is an award-winning poet, author, and essayist, and served for over 25 years as a congregational Rabbi, spiritual director, and professor of world religion. Considered one of the most creative voices in contemporary Jewish spirituality, he is the author of over a dozen books including "Minyan," "Hasidic Tales," "The Wisdom of Solomon," and "Open Secrets." He writes a regular column called "Roadside Assistance on the Spiritual Journey" for Spirituality and Health Magazine. "Since Joseph Campbell is no longer with us, Rami is the next best thing," says Frazee of Shapiro's work on the mentoring team to tell stories of the hero's journey. "All the great religious traditions have something to say about living fully and the experience of being human," continues Frazee. "Rabbi Rami knows those stories and can share them with wit and wisdom."
The HighestPurpose.org launches their website and online presence May 15th. At that time it will open registration for its fall 2010 life strategy program which accepts only thirty-six people each year. The participants that are accepted will work directly with the mentoring team through person retreats, private coaching calls, and online video seminars to clarify their life's purpose and plan to start living it. "Our students will be truly blessed to work with Rabbi Rami," concludes Frazee.
About HighestPurpose.org
HighestPurpose.org provides guidance, training, and community interaction to everyone seeking a life of purpose and meaning. The company offers free resources online through its Purpose Community website and also hosts an exclusive nine month life strategy program. Participants in the program work personally with over a dozen recognized leaders in the fields of psychology, business, spirituality, and transformation as part of a remote learning curriculum designed to help each student find and live their Highest Purpose.
###