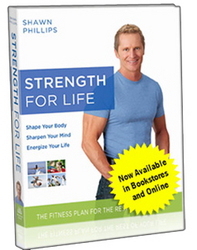 Strength is about being more, doing more, giving more
Grand Haven, MI (Vocus) April 28, 2010
Best-selling author and longtime ambassador for personal transformation and fitness, Shawn Phillips, will be joining the mentoring team for HighestPurpose.org's 2010 life transformation program. "Strength is about being more, doing more, giving more," says Phillips. "It's not just about surviving; it's thriving."
Shawn Phillips is on a mission to spread a new standard of strength throughout America. On his quest, Shawn has focused his considerable passion on transforming our country, with his steady, unwavering message: "health is not enough; it's A Time for Strength." Phillips asks each of us to aim beyond health, to aim for Strength. "Shawn has an uncompromising commitment to strength and fitness," says HighestPurpose.org's Executive Director, Steve Frazee.
Shawn Phillips is a best-selling author, entrepreneur, and renowned expert in the area of performance training and nutrition. For over twenty-five years he has helped hundreds of thousands of people including business leaders, professional athletes, numerous celebrities, clients and friends look great, feel great unleash their full strength. His recent book, Strength for Life, offers the first and only fully integrated body-mind program for maximum results in minimal time. "I was so taken by Shawn's book, and his wisdom about personal transformation, that I had to have him join our mentor team," says Frazee.
Steve Frazee and Shawn Phillips originally met at a leadership conference where Phillips was teaching. "Shawn blew my mind. His strategies for transformation are clear, practical and effective," said Frazee. "He has revolutionized the way I think about my workouts and my nutrition."
Frazee later assisted Shawn. Phillips' and his management team in developing a business growth strategy for the Full-Strength premium nutrition shake company. Participants in HighestPurpose.org's program receive complimentary copies of Phillips' book, Strength For Life, and a supply of the Full Strength premium nutrition shake. "Steve was a trusted confidant and guide, with wisdom from experience," said Phillips of his work with Frazee. "He's helped me to be to be a better leader, strategist, and human being and helped our team develop a complete sense of freedom and confidence to take the company to the next level."
Shawn Phillips joins over a dozen recognized leaders that act as mentors in an exclusive program offered by HighestPurpose.org. The program accepts only thirty-six participants each year that are ready to transform their lives and in doing so find purpose and meaning in life. Participants are selected through an application process for the program that begins in September of each year. "We are looking for three dozen special people that are asking 'what now' about their lives," describes Frazee. The program specifically looks for individuals that have a desire to serve their family, community and the world. Mentors guide the participants through an elegant curriculum that moves them through understanding themselves and others, clarifying and researching their purpose, and then crafting an action strategy to bring that purpose into the world.
"This program is nothing short of a life transformation program," says Frazee. "When it comes to making a life change and doing the work of transformation, our clients are very fortunate to have Shawn on their team." The company will begin taking applications for its 2010 program on May 15th, when it launches the beta version of its website. The HighestPurpose.org website will offer free tools and guidance to help everyone clarify and take action in their life's purpose not just those enrolled in the nine month program. The company invites everyone to join their Purpose Community and share the joy of living fully with purpose.
About HighestPurpose.org
HighestPurpose.org provides guidance, training and community interaction to everyone seeking a life of purpose and meaning. The company offers free resources online through its Purpose Community website and also hosts an exclusive nine month life strategy program. Participants in the program work personally with over a dozen recognized leaders in the fields of psychology, business, spirituality and transformation as part of a remote learning curriculum designed to help each student find and live their Highest Purpose.
###