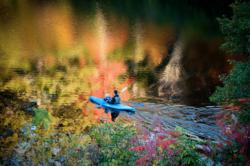 "Because of our high altitude on the Cashiers-Highlands plateau, peak fall foliage usually occurs mid- to late-October, painting the forests surrounding High Hampton with rich reds, purples, oranges and golds," says Clifford Meads, General Manager.
Cashiers, NC (PRWEB) October 11, 2012
Branch out beyond typical leaf watching with a visit to High Hampton Inn where acres of fall foliage, an heirloom Tree Garden, the highest waterfall east of the Rockies, and a giant shadow of a bear add await leaf peepers in Cashiers, NC. Located on 1,400 acres in the Blue Ridge Mountains, this venerable resort celebrates its 90th season as a fall mountain getaway flush with colorful fall foliage. Guests are encouraged to take advantage of special fall mountain packages with Stay Four, Get One Night's Lodging Free offer featuring a four night-stay for the price of three in the inn or cottages. The package will be available during the peak fall color through November 11, offering a unique opportunity to those searching for perfect fall mountain getaway with plenty of colorful leaves, tranquility, natural beauty, and crisp mountain air in the Blue Ridge Mountains of Cashiers, NC.
Unique to High Hampton Inn are heirloom or old-growth trees that make up a garden fit for giants. Planted more than 100 years ago, a Ginkgo tree, Bottlebrush Buckeye, Bald Cyprus, a fiery Copper Beech and America's largest Frasier Fir offer amazing fall color and are perfect complements to the main Lodge, which was built in 1932 as a North Carolina vacation destination and is listed on the National Register of Historic Places.
This Carolina mountain inn features miles of well-marked hiking trails lined with a variety of Maple, Black Birch, Sourwood, Hickory, Yellow Poplar and Dogwood trees that spread out across the Blue Ridge mountain resort. Hikers can climb to the summits of either Rock Mountain at 4,370 feet or Chimney Top Mountain at 4,618 feet to view the miles of fall colors in the valley between Cashiers, Highlands and Whiteside Mountain.
Southwestern North Carolina is well-known for its mountain falls that cascade over the rock faces of the Blue Ridge Mountains as well as its fall foliage. There are a number of waterfalls in the Cashiers, Franklin and Highlands areas that are even more stunning when they are surrounded by October's peak leaf colors. Many of the falls can be easily reached by following scenic U.S. Highway 64 east or west of High Hampton Inn.
A spectacular natural phenomenon not-to-be missed is the Bear Shadow. During the last two weeks of October, when the sun sets behind Whiteside Mountain, its shadow creates a perfect image of a Black Bear that dances across the tops of the colorful trees. The best places to view the ethereal bear are along U.S. Highway 64 in Cashiers, about one hour before dark.
Each day, High Hampton guests may review the activity list which is posted outside the dining room. During fall, popular outings include everything from guided hikes and wildflower walks to golf and tennis lessons. Inside, enjoy yoga sessions or luxurious treatments at the Inn's full-service spa.
After a day of adventure seeking out autumn's dramatic sites, return to the High Hampton Inn for hot cider beside a roaring fire that burns day and night in the lobby's massive four-sided stone fireplace. Such is the commitment to a cozy fire that High Hampton dedicates one staff member solely to chopping wood and keeping the fire lit.
About High Hampton Inn:
The historic High Hampton Inn & Country Club, listed on the National Register of Historic Places, is a classically rustic stone-and-wood mountain inn overlooking the spectacular scenery of North Carolina's sliver of the Blue Ridge Mountains. Amenities at this 3,600-foot elevation, 1,400-acre, 117-room resort (with lodge rooms, cottages, and vacation rental homes, all with private bath) include seasonal events (children's programs, golf and tennis clinics, wildflower workshops), an 18-hole George W. Cobb-designed golf course, a full dining room with three sumptuous buffets daily, six tennis courts, and a 35-acre lake for swimming, boating, fishing, and other water-related activities. For more detailed information, contact the High Hampton Inn & Country Club at 1525 Highway 107 South, Post Office Box 338, Cashiers, North Carolina 28717. Visit the inn at http://www.highhamptoninn.com or contact reservations toll-free at (800) 334-2551.