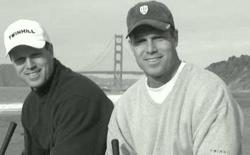 Our grandmother attended both Beach and Havens and graduated with the PHS class of 1931.
Piedmont, CA (Vocus/PRWEB) May 18, 2011
The latest realtors to join Highland Partners can hardly be called new in town. Twins Scott and Kent Hill are about as deeply rooted in Piedmont as one can be.
"Our grandmother attended both Beach and Havens and graduated with the PHS class of 1931," said Scott. Next, their father, George Hill, a Havens alumnus, graduated from PHS in 1955.
The twins' older sister Kathy donned her cap and gown in 1979 and they followed suit in the class of 1982. Another member of the PHS class of '82 was Highland Partners co-owner Debbi DiMaggio. She and the twins went to school from kindergarten through high school and through Cal.
They were such good friends that Scott and Debbi went to the Senior Ball together. Scott's children, Georgia a PHS sophomore and Skip, who is in 8th grade, will graduate in 2013 and 2015 respectively. "It's almost 100 years in town," Scott noted, pointing out that his grandmother was also one of the city's first residential real estate agents.
This is not the first time the Hill brothers have worked together. After spending over a decade in the insurance industry, they decided in 1996 to try their hand at selling men's golf apparel. Two years later Twin Hill Golf Company was born, selling golf togs to green grass pro shops all over the country. They sold the business in 2002, but continued on with the company until 2004.
"I was sick of the traveling. It was taking me away from my family too much," explained Scott. He and Kent each decided to try their hand at residential real estate. Kent, who then lived in San Francisco, took a job with Pacific Union in the city in 2005, and two years later was recruited by Hill & Company.
Scott began at Coldwell Banker in Montclair in 2005 and joined The Grubb Co. in 2007. "Scott and I have always worked well together," said Kent. "We have a certain magic together, and in this tough market it just makes sense to use that to our best advantage."
Thus when the opportunity to join Highland Partners presented itself, the brothers felt it was one they could not pass up. "It's really exciting to be part of the only agency located in Piedmont," said Kent. Though Scott and Karen, his wife of 21 years, have lived for a number of years in Piedmont, Kent relocated to the East Bay just last week.
"It feels good to be back," he said. The feeling is mutual, it seems.
"We are thrilled to have Scott and Kent here in Piedmont working with us," said DiMaggio. Co-owner Heidi Marchesotti is equally excited.
"We are honored to have Scott Hill and his twin brother Kent join our family. Scott and Kent have impressive individual track records in real estate. Together with the advanced technology and international marketing platform BH&G Highland Partners provides, they clearly will be an asset to the organization. Judging from the response we have already received from their clients it will be a successful partnership."
Adam Betta, DiMaggio's husband and the third owner of Highland Partners, is looking forward to working with both Hills. "Their connection to the community is something we really value. The office would just be a big space filled with desks were it not for the special connection each of our agents has to the larger community."
The brothers have a particular interest in the distressed homes division of Better Homes & Gardens, the parent company, after discovering that Oakland is one of the number one areas in the country for distressed property.
"We are looking forward to this new challenge," said Scott. "And it just makes sense for us to work together."
Content Credit to Paisley Strellis of the Piedmont Post.
# # #