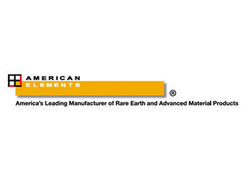 Los Angeles, CA (PRWEB) March 17, 2008
Los Angeles-based American Elements announced today expanded production capacity for certain high purity semi-conductor materials. Materials include zinc telluride, bismuth telluride, cadmium telluride and several other telluride and selenide products essential to many next generation optics, electronic and photo-voltaic (solar energy) applications.
Marketed under the trade name AE Semi-Conductor Materials™, the new bulk manufacturing unit is designed to produce these materials in several forms including powder and in lump or chunk forms for use in thin film deposition applications.
For further technical and pricing information on American Elements' full line of advanced ceramic, electronic, glass and structural advanced materials, please contact your local American Elements distributor or American Elements U.S. corporate headquarters at (1)310-208-0551, FAX (1)310-208-0351 or customerservice@americanelements.com . American Elements is America's leading manufacturer and supplier of engineered and other advanced material products with distribution offices in Europe, Asia and South America.
###