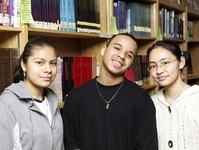 The Death and Life of the Great American School System: How Testing and Choice are Undermining Education
Long Island City, NY (Vocus) June 22, 2010
Middle College National Consortium will hold its annual Summer Institute from June 27 to July 1, 2010 at the Jersey City Hyatt Hotel. During this time, 224 educators, representing thirty one Consortium schools around the country, will converge on the Hyatt Hotel to learn from distinguished speakers, participate in workshops, share ideas, and network with like-minded educators. By and large the workshops are facilitated by faculty from participating Consortium schools given that teachers have a unique understanding of what constitutes successful practices in a classroom setting. This year's workshops are geared towards the theme of College Readiness, such as How to Bridge the Gap Between High School and College Readiness, Using Technology to Engage Students in Inquiry- Based Science, and College Access Through Inquiry.
Diane Ravitch, one of the leading educators in the United States today, will be the keynote speaker. In her latest book, "The Death and Life of the Great American School System: How Testing and Choice are Undermining Education" Ms. Ravitch decries merit pay, privatization of schools, small schools and especially high stakes testing. A lively debate is sure to follow her presentation.
Also featured is Dr. David T. Conley, Professor of Educational Policy Research at the University of Oregon and founder and Chief Executive Officer of the Educational Policy Improvement Center (EPIC). Professor Conley's latest book, "College and Career Ready: Helping All Students Succeed Beyond High School" is a primer on preparing students to succeed in college as well as taking advantage of learning opportunities beyond high school.
Dr. Cecilia Cunningham, founder and Director of the Middle College National Consortium, states that "these two lions of education understand the true meaning of college readiness, and their ideas about curriculum, teaching strategies and support structures are the true drivers of college readiness, a goal for all students". The Middle College National Consortium, headquartered in New York City, is a leader in the movement to establish and sustain high school/college dual enrollment as a viable and necessary educational model. Middle College National Consortium's mission is to develop small schools in which high school students, especially those who have been previously underserved by their former schools, can earn both a high school diploma and either an Associate's Degree or transferable college credits upon graduation.
To learn more about the Middle College National Consortium, visit us at (http://www.mcnc.us/) for a comprehensive overview of the history, design principles, current work and achievements.
Contact information
Tony Hoffmann
Middle College National Consortium
http://mcnc.us
718-361-1981
thoffmann(at)mcnc(dot)us
###