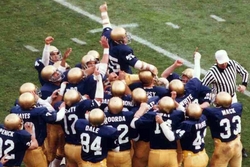 We know when our kids are engaged in youth sports it translates to a decrease in childhood and teenage obesity, lower levels of drug use, fewer cases of teenage pregnancy and an increase in their overall health and wellbeing
Bend, OR (PRWEB) October 13, 2009
Trusted Sports Inc. (TSI) and co-founder, Daniel 'Rudy' Ruettiger announced today the search for The Most Inspirational High School Football Player of the year, who will receive the inaugural 'High School Football Rudy Award' and a $10,000 academic scholarship. This award is aimed at not only celebrating incredibly inspiring player stories, but also to motivate other kids to thrive in life through youth sports. A total of $20,000 in academic scholarships will be awarded. The recipient of the High School Football Rudy Award will receive a $10,000 college scholarship. Two runners-up will each receive a $5,000 scholarship. In just one email push to the 16,000 High School football coaches in America, Trusted Sports has already received 149 nominations from 40 states. Real life stories of each nominee will be posted at HighSchoolRudyAwards.com and parents, kids, and coaches are encouraged to go to the website and identify their most inspiring nominees before the November 30, 2009 cutoff. The top 20 nominations will be announced on December 11, 2009. People can nominate a player they believe is a 'Rudy' at HighSchoolRudyAwards.com The award honors student-athletes who may not have the greatest stats, but who bring the most heart to their game.
The High School Football Rudy Awards is an expansion of the highly successful College Football Rudy Awards, now celebrating its third year, which was originally created by Ruettiger as a way to honor those athletes that inspire their teammates with their determination, character and commitment, sometimes in the face of significant adversity. "The 2008 College Rudy Awards received nominations from some of the toughest coaches in football. Yet, when they listened to our finalists at the awards ceremony there wasn't a dry eye in the room!" explained Ruettiger. "We want to honor those kids who are rising above physical, mental and emotional challenges. These high school nominees - some of them just fifteen years old - are an inspiration! I've been following their stories and am amazed at what they have overcome. Kurt LeBlanc of Louisiana suffered two strokes that left him unable to speak. Steven Barber of Colorado was born deaf, yet he's never allowed that to stop him from following his dream to play football. Anthony Braham of New York suffers from kidney failure. A.J. Bocchini of Wisconsin deals with Cerebral Palsy, but none of these kids allow their challenges to stop them from contributing to the team! Their stories motivate everyone who reads them; inspire kids to take up a sport, or continue playing." Ruettiger continues, "America needs heroes - now more than ever; and we're finding them on the high school football fields throughout the country."
The 2009 Selection Committee includes former Indianapolis Colts and New Orleans Saints Head Coach, Jim Mora Sr.; NBC Football Sideline Reporter, Andrea Kremer; former Seattle Seahawks running back and NFL MVP, Shaun Alexander; former New England Patriots quarterback and four time pro bowl selection, Drew Bledsoe; and Inside the NFL Special Correspondent, Jenn Brown.
About TSI:
With more than 70% of kids dropping out of sports before they turn thirteen, Trusted Sports was created with the mission to motivate kids to thrive in life through sports by inspiring, educating, and uniting young athletes, parents, and coaches. "We know when our kids are engaged in youth sports it translates to a decrease in childhood and teenage obesity, lower levels of drug use, fewer cases of teenage pregnancy and an increase in their overall health and wellbeing," said CJ Edmonds, CEO of Trusted Sports. Our Mission is to 'Keep Kids in the Game' through such inspirational initiatives as the Rudy Awards program. Our hope is that someday soon we will celebrate the 'Rudy' on every team in America (boys, girls, and all sports) much like we celebrate the most valuable player or most improved player. Just as the film RUDY transcends playing football for the University of Notre Dame, we hope these awards transcend high school sports.
The High School Football Rudy Awards are produced and managed by Trusted Sports Inc., a Bend, Oregon based company. For more information about Trusted Sports please visit http://www.TrustedSports.com and HighSchoolRudyAwards.com.
###