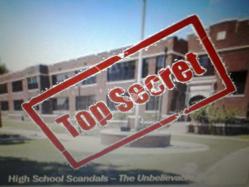 Garland, TX (PRWEB) November 10, 2012
In the late 1990, the high school experience in a small rural town was the most popular girl was the head cheerleader and quite often her boyfriend was the captain of the foot ball team. High school was a place where there were many social cliques. Students were very particular about their high school associates and everyone was not invited. It was a time when the athletes bullied the nerds and stuffed them in lockers. Not only were teenagers faced with the social pressures of "doing what the cool kids were doing" but trying to compete in the academic arena. It was the survival of the fittest.
Competing for highest grades in each subject was only for the best and the brightest. Being a part of the in-crowd made it easier to be recognized as one of the brightest. However, the most popular students were not always the brightest; unfortunately that opened the flood gates for scandal. Popular students had an image to uphold but that became a very daunting task for a group of teenagers.
Canaa Lee, Founder of the EDUKATE Academy writes a story high school story based on actual events of her own life. The story is based a high school student named Bessie. Bessie was raised in a small rural town in Arkansas. Bessie had always been a social outcast, taunted and ridiculed by her peers, and only had one true acquaintance in high school. Despite being introverted and obese, Bessie was actively involved in extracurricular activities in school.
There had not been a minority Valedictorian for over 14 years, and Bessie desired to make history at her school. Beginning her freshman year, she set her hopes for the sky to earn the title of Valedictorian of her graduating class; Bessie worked diligently to make A's in all her classes. However, Bessie had a rival in her class. Unfortunately, her adversary was not earning her grades honestly. Every year, Bessie was swindled out the award of Highest Achieving Student because Jan had her friends help her earn a higher grade than Bessie in every class! When Bessie tried to inform her teachers what was going on, no one believed her. However, that all changed during Bessie's senior year. She had no idea what was to come her senior year of high school.
An excerpt of High School Scandals: The Unbelievable Truth can be found at http://www. ebookmall.com/author/goldnmind. Find out what happens to Bessie and vote for GoldNmind to be America's Next Author.