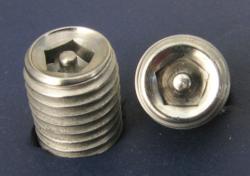 "Most retail and grocery chains serious about protecting customer credit and debit card information already use our security screws, simply because nothing else comes close to the level of security they provide." Bryce Campbell, CEO
Phoenix, AZ (PRWEB) April 04, 2013
U.S. security screw manufacturer Bryce Fastener has developed the new Penta-Plus™ socket set screw that has helped shut down credit card terminal theft at retail and grocery chains using the new fasteners. Theft and high-tech hacking into credit card terminals is a scam targeting retail and grocery chains with millions of credit card, debit card and pin numbers stolen every year.
Credit card terminals are easy targets for high-tech thieves. Criminals will replace a cashier's credit card terminal with their own, usually identical in appearance. The replacement goes undetected, continuing to function in the same manner while also capturing and supplying the thieves with card and personal pin numbers. Sometimes this is done with the aid of an insider, by individuals posing as a vendor upgrading the terminals or within seconds while another team member distracts an employee.
In response to grocery store surveillance footage of two men stealing a credit card terminal and replacing it with a fraudulent one in less than 5 minutes, Bryce Fastener developed the Penta Plus™ socket set screw. "Installing this high security screw into a deep recessed hole makes it nearly impossible for anyone other than the owner of the specialized tool to remove the terminal from its holding plate" says CEO, Bryce Campbell. Bryce Fastener tightly controls distribution of every single one of its special removal tools. "We instruct the owners to tightly control access to the tool, preferably storing it in a safe," says Bryce. Since its implementation, there have been no reported breaches of terminals held in place by the new security screw. Bryce went on to say "Most retail and grocery chains serious about protecting customer credit and debit card information and their displays of electronic products already use our security screws, simply because nothing else comes close to the level of security they provide."
Penta-Plus™ socket set screws are manufactured in the U.S by Bryce Fastener, Inc. They are made in stainless steel material and available in metric and standard sizes, 2/56-3/8. Founded in 1972, Bryce Fastener, Inc. designs and manufactures custom bolts, nuts and screws for security applications. Recently applauded by President Bill Clinton, Bryce serves customers in industries such as solar, electronics, retail, financial, construction, military, government, utilities, corrections and more.