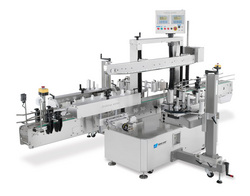 Fullerton, CA (PRWEB) April 1, 2009
Label-Aire, the innovative company that first brought to the packaging industry 40 years ago the patented "air-blow" concept for applying pressure-sensitive labels, is at it again with its new Inline Series 6200 labeling system. This newly designed stainless steel, cabinet-based system offers advanced features and a wealth of options and configurations to make labeling your products faster, easier, more affordable and more profitable.
The NEW advanced yet rugged Inline 6200 labeling system is a stainless steel cabinet-based PLC-controlled labeling system designed for heavy duty front/back-, side panel-, or wrap labeling applications. Among its standard features are a rotating control panel, a 12 foot (3,658 mm) Delrin® chain conveyor with stainless steel side plates, and a segmented top trap hold down to keep your products in place. Other standard features include Automatic Speed Following (ASF) for product surface profiling, Variable Frequency Drive (VFD), and dual applicator mounts with in/out traverse, up/down, with tilt adjustments for maximum versatility. Standard speeds up to 2,000 inches (50.8 m) per minute with VFD make the 6200 the ideal choice for demanding applications requiring speed and precision. The 6200's long list of options include a choice of Label-Aire New Generation 3100/3000 Series applicators (wipe-on, air-blow, or tamp-blow), wrap belt, single or dual feedscrews, stainless steel side plates, stainless steel frame, stainless steel cabinet, airfill capability, and powered or nonpowered impressors.
For more information go to http://www.label-aire.com/products/6200.cfm.
Also visit the company's Web site at http://www.label-aire.com to view other labeling options and equipment. The site also offers custom systems, accessories, RFID solutions, high-speed sleeving equipment, technical information, a complete video library, and a unit conversion calculator for changing measurements to various units used by differing countries.
About Label-Aire:
Over 40 years ago, Label-Aire introduced a revolutionary new method for applying pressure-sensitive labels. The patented "air-blow" concept provided the packaging industry with a preferred method of label application which eliminates the need for additional product handling. This pioneering technique has gained complete acceptance and contributed to the widespread growth of pressure-sensitive labels in existing and new markets, worldwide.
Label-Aire's tradition of providing the easiest and most effective labeling solutions carries on today. No matter what the application, Label-Aire has the expertise to get the job done right - the first time. With a full line of quality pressure-sensitive labeling machinery, the company is able to provide the industry's broadest range of labeling solutions - including primary applicators, print & apply applicators, inline and rotary labeling systems, and RFID labeling solutions.
Label-Aire's ultra-modern facility (located in Fullerton, CA) houses a professional, hard-working sales & marketing staff, dependable customer representatives, and a highly-skilled workforce of technicians and engineers using the most sophisticated and technically advanced equipment. Its dedicated employees design and manufacture the most reliable and innovative pressure-sensitive labeling machinery in the world.
Behind every Label-Aire product stands the industry's most knowledgeable distributor network and service team, working to keep your line running. Label-Aire's Authorized Distributors are partners in our success. Be sure to look for the "Label-Aire Authorized Distributor" seal when looking for sales or service assistance on Label-Aire labeling equipment.
This professional network will help you select the most cost-effective system to meet any labeling need. These factory-trained sales professionals and service technicians are the primary source for installation, after-sale service, and spare parts purchases.
Contact:
William Claproth
714 449-5155
###