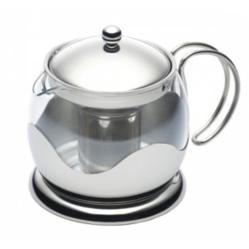 These items allow restaurants, hotels and cafes to offer their customers an interesting alternative to an ordinary late lunch or afternoon snack
(PRWEB) November 09, 2012
And family-run catering equipment supplier, Stephensons has seen the orders pour in for its high tea products – with an almost 400% increase in sales. The majority of orders have seen traditional wooden tea presentation boxes fly off the shelves of the Manchester-based company. This has been coupled with an increase in sales of glass infuser teapots and traditional cake stands to perfect the high tea experience.
Henry Stephenson, Marketing Director at Stephensons, said: "High tea is definitely back on the agenda. These items allow restaurants, hotels and cafes to offer their customers an interesting alternative to an ordinary late lunch or afternoon snack. We are delighted with the sales results we have achieved on these products."
High profile restaurateur Steve Pilling, has recently launched his version of the traditional tipple at his iconic restaurant – the Red Lion, Cheshire. The former co-owner of the well known Sam's Chop House and Mr Thomas' Chop House in Manchester City Centre – and current owner of the acclaimed Damson restaurant – has chosen Stephensons products for the launch of 'High Tea at High Lane'. Steve said: "After seeing the increase in popularity of high tea, we decided to launch our very own at the Red Lion. The products from Stephensons are ideal for creating the high tea experience and we are delighted with the response it has received so far."
Sales figures for Stephensons' glass teapot have gone from zero in 2008 to 80 in 2012, while the traditional tea box sales have reached a high of 395, compared to zero sales in 2010. The phenomenon has also seen the return of fine rim high end crockery, replacing the former popular functional items. The Glass Infuser Teapot, the Natural Bamboo Wood Tea Box and the Large 3 Tier Stainless Steel Cake Stand are all available in Stephensons 2012 catalogue.
Stephensons boast the largest catering equipment showroom and cash and carry facility in the North and has been supplying the best restaurants and bars for over 140 years!