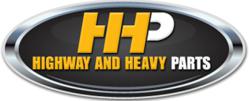 Midland, MI (PRWEB) May 31, 2013
Highway and Heavy Parts (HHP) is pleased to announce its latest addition to their diesel engine parts tech tip series. The latest addition will cover common turbocharger problems in the heavy diesel industry.
HHP tech series is an ongoing project to help answer common questions and problems in the diesel engine parts industry. Each month they choose a frequently asked question that the parts department has received by their customers. The chosen topic is then addressed in their blog and will hopefully help any others that are running into the same issue.
This month the topic covers oil in the turbo and other common problems. As with many problems there are several factors that can cause oil to leak into the turbo. HHP covers the basic issues that they have found by speaking with their customers and determining the root cause of the failure. The engine applications that they cover are the most popular in the on-highway trucking industry including manufacturers such as Caterpillar, Cummins, Detroit Diesel and International. The engine models vary somewhat but turbocharges typically don't have that many variables between manufacturers.
Highway and Heavy Parts inventories turbocharges from all the major turbo manufacturers such as Garrett, Borg Warner, Rotomaster, and Holset. This greatly helps with their product knowledge and getting to the bottom of customer issues. The parts staff has a great deal of hands on experience also, each having worked with diesel engine parts for a number of years.
HHP uncovered some typical problems this month but an interesting fact is that many times the assumption is made that the turbo is the problem without any further trouble shooting. This can lead to unnecessary and costly maintenance. Many of the cases were a result of poor maintenance, or not installing the turbo correctly.
Highway and Heavy Parts will continue to update their tech blog with interesting issues that present themselves as they deal with diesel engine parts issues. They urge everyone to check it out and leave feedback so they can better serve the diesel market.
Click here to access the HHP Blog.
For more information on turbochargers or diesel engine parts from HHP you can visit their website (http://www.highwayandheavyparts.com). Or, call them toll free at (855)447-7278 to speak with one of their qualified professionals.