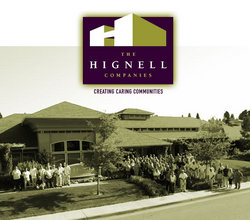 We look forward to offering our professional quality community association management services to the residents of both Park Forest Estates and Stanford Hills
Chico, California (Vocus) June 4, 2010
The Hignell Companies announce the expansion of their community association management services in Chico and Redding. The company has recently signed contracts to begin managing Park Forest Estates in Chico and Stanford Hills in Redding. The addition of these two brings the total number of community associations in the Northern California area under the The Hignell Companies' management services to 41 associations – comprising over 6,000 homes.
Though not large properties – Park Forest Estates has 35 units and Stanford Hills, a gated community, has 49 – Ray Villar, Senior Property Manager at The Hignell Companies, is still excited about signing these two contracts. "We're always looking to grow our services in Chico," says Villar, "and the addition of property in Redding enables us to break into a market we've been eager to enter for a long time."
Villar, along with the other members of The Hignell Companies' Community Association Management (CAM) team, is enthusiastic about partnering with the Boards of Directors at both Park Forest Estates and Stanford Hills to better serve these respective communities. "We look forward to offering our professional quality community association management services to the residents of both Park Forest Estates and Stanford Hills," says Villar. As far as Villar knows, The Hignell Companies are the only company in the area to offer local Boards of Directors biannual seminars meant to equip them with legal knowledge, as well as both management and leadership skills.
For over sixty years and with the highest standards of excellence and integrity, The Hignell Companies have served Northern California in the areas of residential and commercial property management; homeowner association management; brokerage; and professional services including painting, cleaning, construction, and maintenance. Deeply committed to the purpose of "Creating Caring Communities that Transform Lives," The Hignell Companies continue to pioneer creative and lasting paths to success in these areas of service. As industry leaders in the field of community association management and with this recent expansion of their services, The Hignell Companies once again prove the depth of their commitment to serving with excellence the people and businesses of Northern California.
For further information, please visit http://www.hignell.com or call (530) 894-0404.
###