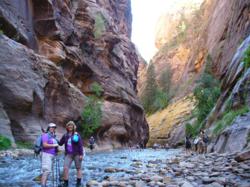 Our hikers run the gamut of ability. The common thread is that they want to challenge themselves while helping further an important cause—curing cancer.
San Francisco, CA (Vocus/PRWEB) July 14, 2011
Most people know it by its best-in-class Bay Area marathon training program, but may not realize The Leukemia & Lymphoma Society's Team In Training (TNT) also offers training for hike adventures for all skill levels—novice to advanced. Hike teams are forming in the Bay Area for day-long hikes along the Tahoe Rim Trail and Zion National Park.
But the crowning event this year is a 6-day/5-night Hike Grand Adventure on October 25-30 that takes hikers to four southern Utah national parks, from Cedar Breaks National Monument to Bryce Canyon and Escalante, ending in Zion National Park. Trained by TNT's expert coaches, hikers will explore amazing rock formations, hanging plateaus, hidden gorges, waterfalls and slot canyons along some of the less-traveled trails.
"This is the insider's view of the parks that you can't see from the tourist shuttles," says TNT Coach Amanda Crickmore. "Knowing you've gotten there on your own steam creates an incredible sense of accomplishment. And our hikers run the gamut of ability, from those who have never walked on dirt to those who've been to Machu Picchu…The common thread is that they want to challenge themselves while helping further an important cause—curing cancer."
"Each of these parks has its own magical features," Crickmore continues. "You have the Cedar Breaks 'amphitheater of rock,' the spires of Bryce Canyon, Escalante's sand chimneys, and finally the red rock formations of Zion National Park. Plus, you're getting the full spectrum of fall colors in October. It's simply breathtaking."
Ready to hike the best of the Southwest? Here's what to expect when joining TNT's Hike team:

3 months of professional coaching/training on Bay Area hike trails
Your event weekend travel, accommodations and most meals included
Full fundraising support including a personal mentor and online fundraising page
Weekly organized group trainings
Educational clinics on hiking gear, nutrition and map-reading
Two-time hike participant Ron Rondares returns to Team In Training for the camaraderie and social aspects of the team. "I like that hiking is non-competitive and moves slowly enough to have a conversation with your teammates. People tend to open up after hours on the trail together. That's really special." Ron is back with TNT this season, training to complete the Nike Women's Marathon this October.
To learn more about TNT's Hike program and the Hike Grand Adventure, visit http://www.teamintraining.org/sf/?utm_source=sfgatelist&utm_medium=webpage&utm_campaign=general or call 800-78-TRAIN. Team In Training also offers marathon, half-marathon, cycle and triathlon training programs. Events include the Nike Women's Half Marathon, Big Sur Half Marathon, Marin County Triathlon, Solvang's Finest Century Ride, and others.
In addition to hands-on, coached trainings, TNT also offers TNT Flex, an individualized, online training option that allows participants to get coaching and support on their own schedule and terms. This is a perfect option for those who have regular weekend commitments, travel extensively or live farther away from local trainings.
About Team in Training
Team In Training (TNT) offers Bay Area half-marathon training, marathon training, and triathlon training. TNT began in 1988, when Bruce Cleland of Rye, NY formed a team that raised funds and trained to run the New York City Marathon in honor of Cleland's daughter Georgia, a leukemia survivor.
The team of 38 runners raised $322,000 for LLS's Westchester/Hudson Valley Chapter. Because of the pioneering efforts of Cleland and the Westchester/Hudson Valley Chapter, Team In Training was born and has grown into the world's largest endurance sports training program. Cleland was honored by Runner's World magazine in 2004 as one of their "Heroes of Running" for his role in establishing TNT.
Whether participants choose The Leukemia & Lymphoma Society's traditional Team In Training program or TNT Flex, a flexible, customized online training option developed by TNT's renowned coaches, they get all the support they need to cross the finish line at the marathon, half marathon, triathlon, century ride and hike adventure of their choice. Both offer a choice of world-class events, travel arrangements to an exciting destination, and a fabulous, activity-filled weekend once they're there.
About The Leukemia & Lymphoma Society
The Leukemia & Lymphoma Society (LLS), headquartered in White Plains, NY, with 68 chapters in the United States and Canada, is the world's largest voluntary health organization dedicated to funding blood cancer research and providing education and patient services. The LLS mission: Cure leukemia, lymphoma, Hodgkin's disease and myeloma, and improve the quality of life of patients and their families. Since its founding in 1949, LLS has invested more than $750 million in research specifically targeting leukemia, lymphoma and myeloma.
For more information about blood cancer, visit http://www.LLS.org or call the LLS Information Resource Center (IRC), a call center staffed by master's level social workers, nurses and health educators who provide information, support and resources to patients and their families and caregivers. IRC information specialists are available at (800) 955-4572, Monday through Friday, 9 a.m. to 6 p.m. ET.
###