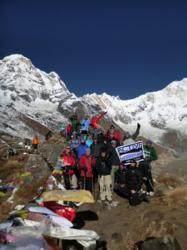 "This is my sixth trip with Active and the best one yet! I've been back a month and my mind still wants to be in Nepal. I may not be hiking from tea house to tea house when I'm awake, but I certainly am when I'm asleep," said Carisa Cannan
Queenstown, New Zealand (PRWEB) October 31, 2012
Travellers journey to the Himalayas about this time each year to test themselves on two of the most iconic treks around. The first of Active Himalayas' tours of the season began just over a week ago, with 15 clients on the Annapurna Sanctuary trek and 10 clients headed to Everest Base Camp. With tours filling up through the end of 2013, they are reporting at least double the numbers on their hiking tours in the Himalayas this season, which runs from October through May, compared to last year.
The Nepali people are an eclectic mix of 103 ethnic and religious groups and there are over 90 languages spoken in Nepal. "Trekking in Nepal is as much about culture as dramatic landscapes, so it's quite useful to have a knowledgeable guide – or several – by your side," says Matthew Yates, a Himalayas destination expert at Active Adventures.
Therefore to ensure the highest level of personal service, each group is accompanied by a seasoned Kiwi trip leader from New Zealand-based adventure tour operator Active Adventures (of which Active Himalayas is a part) alongside their knowledgeable team of local guides and porters. Kiwis are amongst the most respected westerners in Nepal, thanks to Sir Edmund Hillary, who is famous for being the first to successfully summit Everest and revered locally for his lifelong dedication to charity work in Nepal. Also instead of camping, which is common on both trails, Active Himalayas' clients stay in comfortable tea houses each night and are treated to sumptuous home-cooked meals each day.
On October 22, a group of 15 gathered in Kathmandu for one of the most well-known Nepal treks to Annapurna Sanctuary. They first explored the temples and markets of Kathmandu, Nepal's bustling capital city, before flying to the picturesque lakeside city of Pokhara at the foot of the Annapurna Himalayas mountain range. Their journey will take them deep into the Himalayas, hiking up the glacial Modi Khola River gorge, passing through tiny Gurung settlements and finally into the Annapurna Sanctuary for panoramic alpine vistas. "A perfect full moon setting over Annapurna South followed by an awesome sunrise over Machapuchare. Congrats to all the team, amazing trip!" reported trip leader Dan "DK" Keys on Facebook yesterday.
Meanwhile, ten other travellers flew up to the town of Lukla, located at 9,382 ft in the Khumbu region of Nepal, where they'll begin their iconic 80-mile-return Everest Base Camp trek over the next two weeks. Although getting to the summit of Mt. Everest itself is beyond reach for all except the most experienced climbers, the trek to Everest Base Camp at the foot of the mountain at 17,598 ft is one of the most popular treks undertaken by active travellers visiting Nepal.
"This is my sixth trip with Active and the best one yet! I've been back a month and my mind still wants to be in Nepal. I may not be hiking from tea house to tea house when I'm awake, but I certainly am when I'm asleep. The landscape was utterly breathtaking and a lovely backdrop to a reunion with old friends and the start of new friendships," said Carisa Cannan (of Fremont, CA) about her Everest Base Camp trek in March.
About Active Himalayas:
Active Himalayas is a New Zealand-based tour operator specializing in bucket list travel to the Himalayas on small group adventures and Nepal hiking tours. In addition to trekking in the Himalayas, Active Adventures also run tours in New Zealand, Peru, Patagonia, Ecuador and the Galapagos Islands. Call Matthew Yates to discuss travel to Nepal or request a free brochure on 800.661.9073.