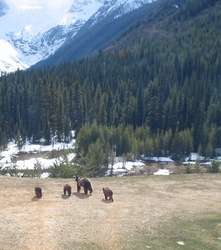 Banff, Canada (Vocus) May 18, 2010
As part of its brand-new Summer Adventures program for 2010, Canadian Mountain Holidays (CMH) has teamed up with the Nature Conservancy of Canada (NCC) to offer a special opportunity to explore the world famous Bugaboo Mountains of eastern BC with grizzly bear expert Dr. Michael Proctor, and to support the conservation efforts of the Nature Conservancy of Canada.
The Bugaboos are a hiker's nirvana featuring famous iconic granite spires that jut up from ancient glaciers, alpine meadows, mountain ridges, and lush forested valleys. Each day, hikers will join knowledgeable guides to explore the immense landscape of the Bugaboos. In addition, grizzly bear specialist Dr. Proctor will share his work and stories along the trail. There is no better way to learn about the intricate links between bears, alpine ecosystems and conservation than in an environment like the Bugaboos.
This three night/four day trip based from the remote and beautiful CMH Bugaboo Lodge is priced from CAD $2,490 per person, (double/twin occupancy) and exclusive of HST. For each trip booked, 10% of the proceeds will be donated to the Nature Conservancy of Canada.
For more information or to book the trip, please visit http://www.CanadianMountainHolidays.com/NCC, or call 1-800-661-0252. To learn more about the Nature Conservancy of Canada go to http://www.natureconservancy.ca.
About Canadian Mountain Holidays (CMH Summer Adventures):
Offering heli-skiing since 1965, Canadian Mountain Holidays is the oldest and largest heli-skiing and heli-hiking operator in the world. From their head office in Banff, Alberta, CMH operates helicopter adventures from 11 different areas located in the Bugaboo, Purcell, Selkirk, Kootenay, Monashee, and Cariboo ranges of British Columbia, Canada. Helicopter skiing takes place from December through April. Summer Adventures including hiking, walking, mountaineering, and via ferrata adventures take place from July into early September.
###