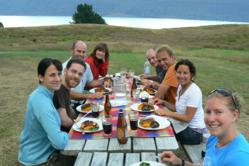 "I was expecting some basic camping type meals. But WOW! We ate like travelling royalty," said Michael and Rachel Mooney, who were on an Active New Zealand tour in March.
Queenstown, New Zealand (PRWEB) May 25, 2012
Active New Zealand, a leading small group adventure tour operator, launches custom-built cuisine software that enables them to consistently serve restaurant quality meals to hundreds of clients trekking in New Zealand's remote wilderness each year. The online software helps the company's guides better cater for multiple dietary requirements within the same group, reduces food waste and streamlines inventory management.
Active New Zealand takes groups of up to 14 guests, accompanied by two guides, on outdoor adventures throughout New Zealand for up to 14 days at a time. The main responsibility of one of those guides is to prepare nutritious food for the group daily, which varies from gourmet picnics overlooking the sea to three-course meals at backcountry huts. Guests also have the opportunity to sample some local restaurants several times during their stay.
The software, developed by in-house systems analyst Adrian Nankivell, was created when the company couldn't find suitable off-the-shelf restaurant inventory management software that offered the flexibility and precision they required to address new dietary challenges while maintaining the high standard of cuisine they aim to deliver.
"When I was guiding a decade ago, one or two out of a dozen guests might be a vegetarian or have a special dietary request. Since then, we've noticed a huge increase in specific food requirements due to food allergies, gluten and lactose intolerance, etc.," says Nankivell. Although most of their guides do an admirable job improvising, explains Nankivell, his custom software now gives all their guides the tools to choose meals, share their favorite recipes with other guides, and easily coordinate menus that meet all dietary requirements within each tour group. Guides are then equipped with recipes with appropriate quantities worked out and even detailed shopping lists that account for ingredients used in multiple meals. With this tool available online, guides have more flexibility to adjust the menus to the taste and appetites of their clients during each tour.
"We really enjoy sharing what we believe is the absolute best way to experience our country with guests hiking New Zealand with us. Preparing quality home-cooked meals for our guests, with love, in the unique, off-the-beaten-path locations we guide them to is a big part of the legendary Kiwi hospitality we take pleasure in providing," says Nankivell.
The custom software also streamlines inventory management, especially of non-perishables, which are stocked in their operations base outside of Christchurch, where most of the company's tours start and finish. They believe it will reduce food wastage and also better manage the purchase of perishable goods during the tours by more accurately predicting how much of each ingredient will be required.
"Frankly, I was surprised how well we were eating at each meal," commented Michael and Rachel Mooney, US military stationed in Japan, who was on Active's Rimu 14-day New Zealand South Island tour during trials of the software in March. "I was expecting some basic camping type meals. But WOW! We ate like travelling royalty, as far as I'm concerned. One member of our group had a birthday and our guide made him a Pavlova birthday cake!!"
About Active Adventures:
Active Adventures is a New Zealand-based tour operator specializing in bucket list travel on small group adventures since 1996. In addition to offering hiking New Zealand tours as Active New Zealand, they also offer hiking and adventure tours in Peru, the Galapagos Islands, Ecuador and Patagonia as Active South America and Nepal trekking tours under the name Active Himalayas. Call Matty or Jodi to discuss trekking in New Zealand or request a free tour brochure on 800.661.9073.