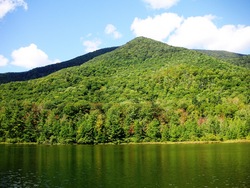 Killington, VT (PRWEB) April 7, 2009
Appalachian Trail Adventures (ATA), Vermont's premier hiking spa destination resort is excited to announce the release of their Healthful Living Cookbook and Healthful Hiking Program. The Healthful Living Cookbook is a combination of healthful living tips, facts and recipes. All recipes are delicious, low calorie spa cuisines, compiled by ATA Founder John Keough and Registered Dietician Rosa J. Donohue MS, RD, CDN. A complimentary version is supplied to guests who stay three nights or longer.
"We know you are as concerned about your travel budget as you are about the comfort and convenience of your accommodations. That's why we are offering the best possible spa vacation at the lowest prices. Our Healthful Living Programs include guided hikes, excursions, yoga class, cooking demonstration (Wednesday & Saturday), nightly movie or lecture, snacks, breakfast, lunch, dinner and accommodations starting at a spectacular low rate of 198.00 per night per person." John Keough
After a healthy breakfast, Guests hike along any one of Vermont's many beautiful trails to mountain vistas, waterfalls, historical features, or crystal clear lakes. Afterward hikers may explore the quaint villages, stop at local favorite spots that have art and crafts, antiques, museums or old general stores. Post hike, guests may unwind with a late afternoon yoga class and/or a massage. During busy times, a water aerobics course is offered. After dinner a cooking demonstrations is held that are based on participants' interests and needs, including nutritional facts.
"ATA's Healthful Living Program does not encompass fad diets but rather old-fashioned hard work and correctly sized portions of well balanced healthy spa cuisine. Our goal is to set you on a path to make healthy life changes once you return home. We emphasize weight loss fundamentals that consider your intake of calories, your daily needs for physical workouts and long term benefits. Believe weight loss is about making the right choices." John Keough
The Healthful Living Programs are a perfect way to kick-start a new lifestyle. They will provide ways to make real changes in your life and help you abandon bad habits. ATA's program provides education, which will put you on the path to weight loss, enhance muscle mass, and reduce stress.
ATA attracts both weight loss hikers and athletes so they provide two meal sizes: hikers' portions and weight loss portions. Catering to special diets such as vegetarian, vegan, low sugar, sodium- wheat- and dairy-free to give guests customized meals. This enables ATA to cater to couples, athletes, weight loss vacationers, as well as to all those with no dietary restrictions who seek to eat healthful.
Collaborating with Registered Dietitian, Rosa Donohue MS, RD, CDN and Jill Corey MS, RD, they have created ATA's delicious spa menu. The Inn's chef prepares meals with a healthy balance of carbohydrates, proteins and healthy fats, which is the basis of ATA's Healthful Living Cookbook.
ATA's registered dietitians are available for individual nutrition consults. Some nutritional issues they may address are: high cholesterol, weight control, high blood pressure or sugar, menu planning, low energy, menopause, liver conditions, osteoporosis, cardiovascular condition, or any other individual nutritional issues. For those guests interested ATA also have personal trainers available for consultations.
Appalachian Trail Adventures season runs from June 1st to October 10th, 2009
To learn more visit http://www.appalachiantrailadventures.com
CONTACT:
John Keough
Founder and Guide
1.888.855.8655
###