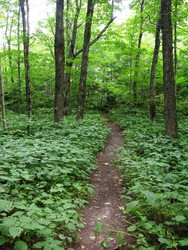 Killington, VT (PRWEB) March 1, 2009
Appalachian Trail Adventures (ATA) and the Grey Bonnet Inn are excited to announce an affordable all-inclusive fitness vacation. ATA knows vacationers are as concerned about their travel budget as they are about the comfort and convenience of your accommodations. That's why ATA are offering the best possible spa vacation at the lowest prices. Providing guided hikes, snacks, breakfast, lunch, dinner and accommodations starting at the spectacular low rate of $157.00 per night, per person, for double occupancy, including taxes and gratuities. Massages, yoga and cooking classes are offered à la carte. Guests who book their adventure before May 8th and receive a $10.00 credit per night, per person, for stays three nights and longer.
ATA is a unique hiking and wellness spa for hikers of all abilities. Offering daily guided hikes in the Green Mountains of Vermont along the Appalachian Trail and the Long Trail, followed by excursions to Vermont's scenic villages. After the hikes guests can unwind with a late afternoon yoga class and/or a massage. But the fun doesn't stop there, after dinner a registered dietitian presents cooking demonstrations while discussing nutritional facts and myths. Unlike most spas, ATA's owner John Keough is there daily to provide guests with personal service.
"In collaboration with registered dietitians we create a delicious spa menu for those seeking healthier meals. ATA is able to cater to special dietary restrictions and offers two serving sizes. These are a weight loss portion or a hiker's portion so our guests can have customized meals. This enables ATA to cater to couples, athletes, weight loss vacationers, as well as to all those with no dietary restrictions who seek to eat healthier. Guests will be empowered to kick start a new lifestyle, as we introduce them to several alternatives or options to choose from in order to attain better health, healthier weight and improved fitness."
Our 2009 season runs from June 1st to October 12th.
To learn more visit http://www.appalachiantrailadventures.com or call 1-888-855-8655
CONTACT:
John Keough, Founder & Guide
888.855.8655
###