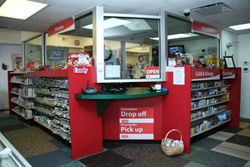 This partnership is important and a way for us to do our part.In many cases, we even offer free medicines such as antibiotics, metformin, and Lisinopril, among others."
Tampa, FL (PRWEB) September 09, 2014
Hillsborough River Pharmacy Inc. is a minority owned pharmacy currently celebrating its 5th year anniversary. The pharmacy has partnered with the Hillsborough County of Florida to offer discounted medicines to those in need through the County's various clinics. "This partnership is important and a way for us to do our part," said pharmacist and owner, Ambrose Chukwueke. "In many cases, we even offer free medicines such as antibiotics, metformin, and Lisinopril, among others."
The pharmacy has a unique focus which is in offering compounded medicine solutions not always available off the shelf. These medications can be created for people who don't like the taste of their pills or perhaps, prefer a different way to take the medication. They focus on OBGYN customers who may need female libido creams, hormonal creams/gels, hormone capsules, and oral dispersible tablets, as well as children's medicines, medicine for pain management patients and pet medication. "By preparing compounded medications, we provide "palatable" solutions for our customers," said Ambrose Chukwueke.
Hillsborough River Pharmacy Inc. offers a vibrant store front and dollar store which is conveniently located in the heart of Tampa, at 1706 W. Dr. Martin Luther King Junior Blvd. Customers can also order medications from the Hillsborough River Pharmacy Website (http://www.hriverpharmacy.com). For more information, please call 813-873-3651.
About Hillsborough River Pharmacy Inc.
This is a locally owned pharmacy paying particular attention to the care and health of their customers.  Their focus is on being able to provide help for people looking for specialty medicine and compounded prescriptions for both themselves and their pets.
About NALA™
The NALA is a full-service marketing agency providing custom personalized service for small and medium businesses throughout the United States.  The NALA consults with each individual business and develops a specific strategy based on the business' unique advertising and marketing needs. Clients' campaigns focus on providing good web content, which include services such as news releases, online advertising, social media, blogs, website development, and charity co-branding, among others.
PR Contact: Tiffani Tendell
ttendell(at)thenala(dot)com
805.650.6121, ext. 361