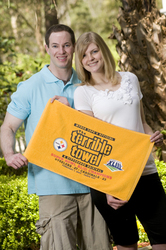 I have so many memories on growing up on Hilton Head
Hilton Head Island, SC (PRWEB) July 14, 2010
During football season, Pittsburgh natives Julie Klein and Dave Battiste proudly wave their Terrible Towels at Steelers football games. But when winter turns to spring and romance takes the field, the couple prefers their beach towels and the sunny shores of Hilton Head Island. Klein and Battiste were recently voted the official winners of Get Hitched on Hilton Head, a wish-fulfillment wedding on Hilton Head Island. They dominated the recent online voting campaign that lasted ten days, following a five-month competition with dozens of other couples from across the country.
"We are thrilled over the news, just completely overwhelmed," said 25-year-old Klein, a physical therapist doctorate candidate at the University of Pittsburgh. "When we found out we had won, we immediately called our families and then came the celebration at our favorite Pittsburgh night spot."
Each of three semi-finalist Get Hitched couples was encouraged to reach out to voters via social networks such as Facebook and Twitter. An ambitious regional public relations program generated broadcast and print coverage for the couples, building interest in each the semi-finalists' home towns and consequently attracting thousands of votes.
Julie and Dave believe winning the Get Hitched wedding is destiny come true, since the long-time wish of Julie's late father was that his daughter would marry on Hilton Head Island. Richard Klein died of lung cancer in 2007. "I popped the question on the island," pointed out Dave, a 30-year-old physical therapist who earned his master's degree and PhD from the University of Pittsburgh. "I have so many fond memories of growing up on Hilton Head," added Julie. The resort wedding gift is perfect timing for the young duo who are launching their careers and marriage during a challenging economy.
"Dave and Julie are very deserving of this amazing gift, and we couldn't be happier for them," said Lauren McGookey, another Get Hitched semi-finalist contender who quickly befriended Julie and Dave when she met them during a weekend visit on Hilton Head.
The Get Hitched on Hilton Head wedding is slated for November 13th at a resort island venue selected by the winning couple. Possible selections include the Lawn at the 18th Green on the Harbour Town Links (reception at Celebrations Catering & Events' Windows on the Waterway), the Coastal Discovery Museum at Honey Horn, The Main Street Inn near Hilton Head Plantation, or an oceanfront luxury home offered by ResortQuest, with the ceremony on the beach.
Throughout the weekend of November 12 – 14th dozens of other island sponsors will donate accommodations, services and products, among them Classic Party Rentals, Ben Arnold, The Westin, All About Me, Faces Day Spa, The Flower Garden, Celebrations Catering & Events, Sheri's Edible Designs, Mark Staff Photography and Photography by Anne (see WeCelebrateYou.com for more details on participating sponsors).
Get Hitched on Hilton Head is a community wish-fulfillment campaign created to stimulate new interest and exposure for the island's tourism industry while allowing one deserving couple the opportunity to exchange vows with family and friends during the wedding of a lifetime, at a minimal cost.
###